Looking for some useful perks in an airline loyalty program above and beyond the normal elite tiers? American Airlines has a rather compelling offer out this year in the form of their 2013 Elite Rewards program (registration required!). The concept – extra perks earned at various milestones – is not a new one but the AA implementation this year is one of the more generous versions in quite some time.
There are two main factors which make the promotion so useful this year, mostly by making it accessible to so many customers.
1) The qualifications this year can be made by EQS, EQM or EQPs. In prior iterations the thresholds were defied by EQPs. That meant only high spending customers were likely to earn the benefits. This time around EQMs or EQPs count at the same rate so even the budget/mileage running passenger can earn the awards.
2) The milestones at which the earnings trigger are pretty smart numbers. Even lower frequency travelers can benefit from the 40,000 point threshold and the 125K and 150K levels do a pretty good job of keeping passengers around even after they've hit EXP qualification for the year.
2a) They have an awesome infographic. Seriously, it is pretty solid: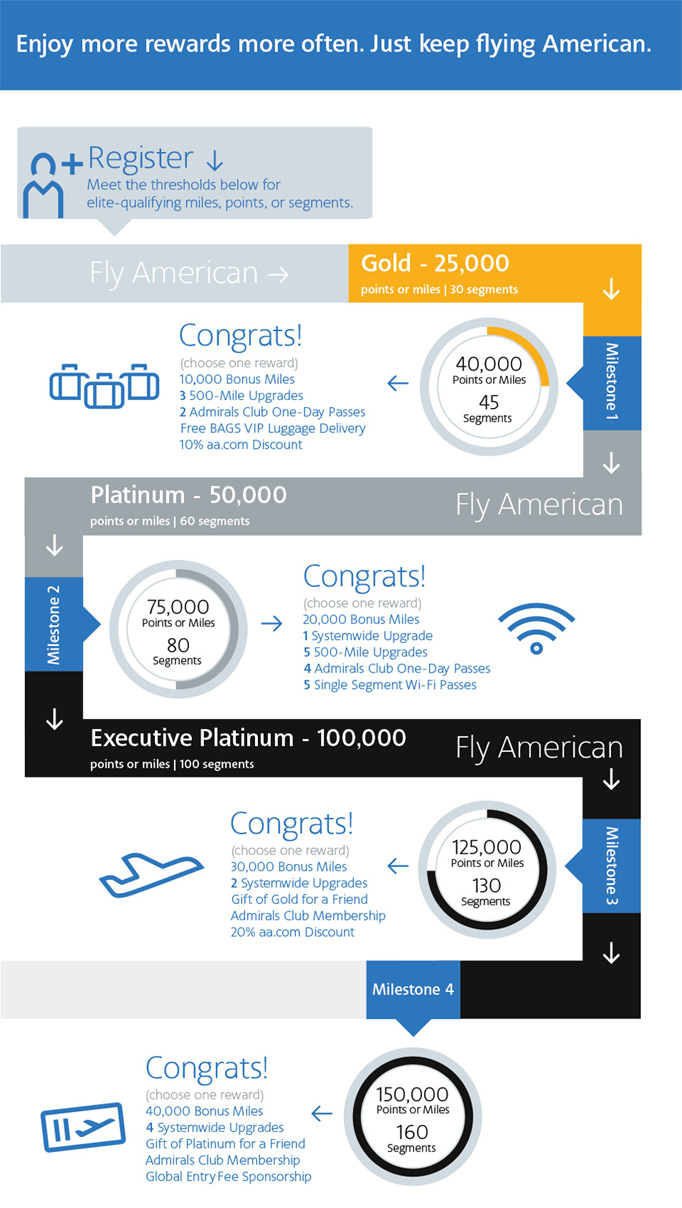 Some of the choices at the various threshold levels are not particularly great values. Like why would you choose a $100 Global Entry credit over 4 EVIPs or 40,000 RDMs?!? And it is worth noting that some of these benefits are not unique to American. The Global Entry reimbursement benefit is provided by United to everyone at the 75K level, for example. And additional upgrade instruments are given to UA elites as they pass the higher thresholds, too. Oh, and for UA elites there is no extra effort required for the additional upgrades; they just happen. Delta also has similar awards available where Platinum Medallions choose one and Diamonds choose two from the pool. Gifting status, bonus miles, upgrades and lounge passes are among the options.
Because of the choices involved it is hard to make an apples-to-apples comparison of the programs. Didn't stop me from trying to, however. If you're in to award miles (and that's what you choose as your bonus) here's what the earnings look like assuming you start from scratch:
If you are a 100K passenger already it looks like this:
If upgrades are your thing and you choose those instead of miles here's what the earning looks like (and keep in mind that the relative utility of UA, AA and DL SWUs varies wildly by travel patterns, fares paid and destinations and that the regional upgrades are also quite different; also, if you are an EXP to start the year you actually don't earn any e500s):
Things like the Global Entry option, lounge membership or wifi passes are probably lower value so harder to compare, but if you don't want miles or upgrades AA is going to be better in this regard, followed by Delta and then United based on my quick review. Similarly, the opportunity to gift status is one which I know is appreciated by many Delta elites in lieu of upgrades in the SkyMiles program.
That's not to say that the AA program isn't very good; I think it is quite compelling for many AAdvantage members. It offers the best benefits at the lower tiers and the choices are broader than what Delta or United offer. But it is most definitely not the only game in town.