Call it a bit better than nothing: Frontier Airlines is aiming to capture some of the traffic United Airlines dumped as part of dehubbing Cleveland this year. Frontier will operate 10 routes directly from Cleveland and another two in partnership with Apple Tours. The new service will include: Raleigh-Durham, Atlanta, Tampa, Ft. Myers, Seattle, Orlando, Phoenix and Ft. Lauderdale, in addition to the currently operating Denver and Trenton service.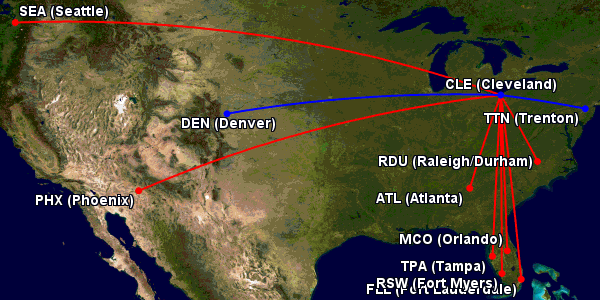 Of the ten routes Frontier will operate on four (ATL, RDU, PHX, SEA) are cities United is pulling out of. Five others (DEN, FLL, RSW, MCO, TPA) are routes United will continue to offer service on. Also, Delta will compete with Frontier on the Raleigh route.
And, while Cleveland residents may be rejoicing that they'll have some non-stop service to these cities, those celebrations should remain tempered. The flights will not be daily to any of the newly announced cities, much les the multiple daily frequencies typically demanded of business travelers. Atlanta gets the most flights with 5/week. The other cities are all 3x weekly.
Yes, this is someone stepping in to the void left by United. Sort of. It is not, however, anything anywhere close to what the service levels used to be. And Frontier has a habit of being rather fickle when it comes to new routes. It will be interesting to see how long these all last.
Related Posts: