I'm writing this story from the comfort of a guest house not too far from Saint John, New Brunswick, Canada. I was never supposed to be here. But, when faced with multiple cancelled flights and missed connections over a series of consecutive days sometimes being flexible and creative has a way of working out for the best. Hurricane Arthur (or its remnants) has been providing us with rain and wind for the past 6-8 hours and I expect that to continue for a while yet. And, still, I'd much rather be here given the way things looked just a few days ago.
We were originally supposed to fly from Newark to Halifax on Wednesday evening; our onward connection was to Deer Lake, Newfoundland on Thursday morning. And while we knew there were storms in the NYC area on Wednesday our flight was showing no delays, right up to the moment we got in to the United Club at terminal A and then it cancelled. No delays, no alternatives. Just cancelled. We were fortunate to be standing at the counter, having just entered the club, and so there was no wait for getting help. The agent rebooked us for the mid-day flight on Thursday without too much trouble. It still took us another hour to leave the airport, however, as the storms were so bad we did not want to be out on the roads. Even when the power flashed in the terminal (pretty sure it switched to backup generators) we felt safer in the building than trying to bet back to Manhattan. It was that bad a storm. And that helped with making everyone (self included) comfortable that there was a good reason for the flights to be cancelled.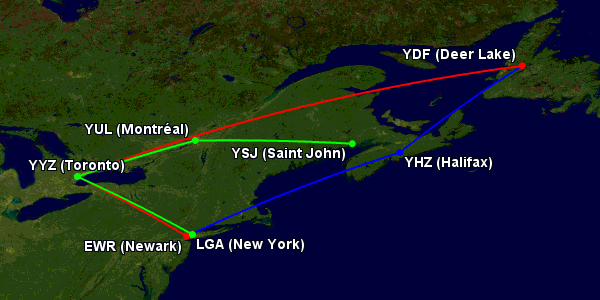 Thursday was a reasonably sunny day to start. We headed back to the airport and even were able to take advantage of the AirTrain being in service once again rather than the cruddy shuttle buses. Things were looking good for our 1pm departure right up until, once again, it simply cancelled about 60 minutes prior to scheduled departure. It was back to the counter and, unlike the night before, I knew that there were more options left in the day. I also knew that a line of storms was headed our way. I needed something leaving town quickly. Alas, there was nothing. We tried other flights to Halifax, Montreal, Toronto and more. One agent refused to call over to Air Canada and ask if seats were open; my GDS systems showed Y3 and hers showed Y0. Finally another agent did make the call – it was oversold and AC wouldn't release the seats – and eventually that agent also made the call to a UA supervisor to force overbook their flight to Toronto. It was delayed, but we had a rebooking. I also considered Air Canada out of Philadelphia but chose not to, figuring that being able to go home when it cancelled would be a good thing. And that flight did eventually cancel.
After a couple hours of waiting (and watching the delays on that Express flight grow) I remembered that there is one mainline flight a day from Newark to Canada – the flight to St. Johns, Newfoundland. That's not too far from our desired ultimate destination and Air Canada has regional flights between the two. I was mad at myself for not remembering it earlier and when I did finally ask about it we believed it to be too late. The flight is scheduled to depart around 4pm and it was already 3:55. I asked the agent at the counter and she said it had seats but was fully boarded and ready to leave. Knowing that there were plenty of delays I asked her to call the gate. She wasn't inclined to do so but eventually did and reported back that the plane was loaded but had no pilots yet. We made the dash from A to C via the shuttle bus and arrived at C85 just in time to hear the gate agent pick up a phone call from Operations telling him to offload all the passengers because the pilots had been diverted to Albany. On the plus side, it was easy for us to be rebooked on to the flight at this point. We just had to wait an hour for the pilots to get in from Albany and we'd be ready to go. With their inbound in the air we started boarding. Looking out the window we saw their plane arrive at C81 and figured we'd have a crew 10-15 minutes later. After 45 I was convinced they had timed out and we weren't going anywhere. I was eventually proven correct.
@united Can you confirm that pilots assigned for UA271 are the crew inbound on UA638? It landed almost an hour ago and still no crew here.

— Seth Miller (@WandrMe) July 3, 2014
It was another 45 minutes after that before the First Officer came on board to address the cabin. She explained that they had flown DCA-ORD-(ALB)-EWR already and had exceeded their duty day. It is not clear if the diversion put them over or how much time they had left when they landed at EWR to get out. She also mentioned that the plane was dispatched with a thrust reverser (or something like that) inoperable. It is apparently not required for all trips but she and the captain felt it was necessary for a "landing at a remote, short runway like St. John's." The field has an 8500′ runway which isn't particularly short, but I'm sure that was part of how they chose to reject the trip. She suggested that another crew and plane were being located. We knew better and stood up to collect our bags.
The cancellation was announced as we walked off the plane but we were first off which is always useful when it comes to rebooking.
And then a massive storm rolled across EWR. It was incredible.
Back when we were in the A lounge I had also added protection on an Air Canada flight on Friday from LaGuardia to Toronto and eventually Deer Lake. That was now the option we were sitting on, if we wanted to try yet again. When we got home on Thursday night we actually agreed to not bother. And then Friday morning rolled around and my better half decided that two days of sitting in airports wasn't quite enough and she was ready to give it another go. We had just enough time to hop in a cab to LaGuardia and try again. The lines were a mess but we got checked in online and I was able to get boarding passes printed. Our bags were too big to be carry-ons (they always were and we knew this but continued to break the rules knowing we could gate-check once we actually got on a plane which was going to leave the airport so we didn't lose them) but I bluffed our way past the agent checking that and we eventually boarded the flight. Even better, it pushed back (only 60ish minutes late) and actually flew to Toronto. Of course we had missed our connection at this point and once again needed a reroute.
The night before, when we decided to scrap the trip, I had emailed our tour operator and told him of the troubles and that we were not going to make it. He then cancelled his ferry crossing to Newfoundland so as to get a refund on his ticket. Now that we were back on – and even in Canada – we wanted to go again but he could no longer get to Newfoundland to meet us. But if we could get to Saint John, New Brunswick he had a similar operation there and we'd have a week of kayaking and fun in the Bay of Fundy. And so I went to the Air Canada counter and explained that we had missed our connection and now needed a reroute to YSJ rather than YDF. The agents were willing but there weren't any seats to be found. We accepted the YDF reroute and headed up to the ticket counter. At agent number three we finally were given seats via Montreal and in to Saint John.
And so we eventually arrived at our final destination. Not that it was the place we originally intended to go to nor was it on the day we planned to fly. But we're here and I even managed to find some flights home (award trips booked as separate one-ways so I had to rebook that separately). Certainly not how I planned to start the vacation but I think we did pretty well overall.
As for the keys which made it work:
Don't check bags: we never would have been rebooked same-day by United or Air Canada if we had bags in the system and we would have waited hours to get them back after cancels, if they bothered to return them at all.
Be flexible on connection points and final destinations: We were willing to overnight en route at our own expense (figure out travel insurance claims with the CCs later) or even end up at an airport not too far from the original. Being closer to the final destination (and further from the storm) worked in our favor.
When you know there are other options available keep asking: Just because one agent says "no" doesn't mean that the alternate flights/seats/whatever aren't really there. It is a fine line to tread, but only one of the reroutes/rebookings came quickly; all the others required a bit of extra inquiry.