There's no good reason that I should be so excited about the ability for a single alliance to transport passengers around the world wholly south of the equator. Actually there's probably no reason at all to be excited about it. But here I am. Air New Zealand is launching thrice weekly service between Auckland and Buenos Aires in December 2015. Once that happens it will be possible for a single alliance to get a passenger all the way around the world while staying in the southern hemisphere.
Crossing the South Pacific Ocean is currently the realm of Qantas and LAN; the former flies from Santiago to Sydney non-stop while the latter makes the trip with a break in Auckland. The new ANZ flight will compete with the LAN operation.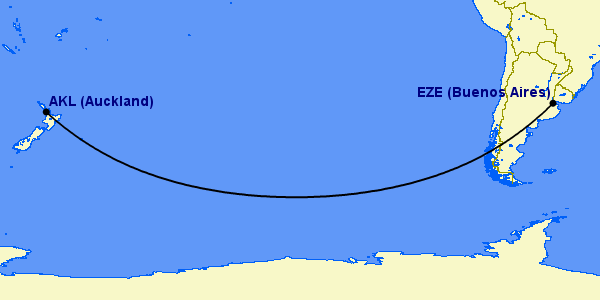 Getting across the South Atlantic Ocean is mostly handled by South African Airways these days, though the carrier did recently kill Buenos Aires as a destination. It does still offer service from Johannesburg to Sao Paulo, Brazil.
And crossing the South Indian Ocean is possible thanks to the South African Airways flight from Perth to Jo'burg. Qantas also offers service from Sydney but there is no oneworld partner covering the necessary routes in the South Atlantic.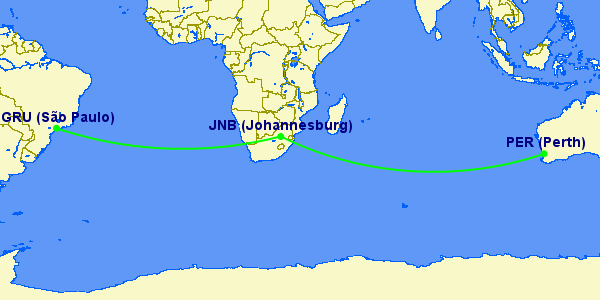 And getting from Perth to Auckland is also handled by Air New Zealand.
As for the gap between Buenos Aires and Sao Paulo, that's a fun one. Star Alliance will eventually get Avianca Brazil into the alliance and that could help out in that region but that still doesn't offer the international connection needed. And TAM went to oneworld as part of the LAN merger. Have no fear, however, for Turkish Airlines will fill the gap. There is a daily 5th freedom flight operated by Turkish between the two cities with continuing service from Sao Paulo to Istanbul.
Put that all together and the antipodal RTW on a single alliance is now very much real. At least it will be in December 2015 when the new ANZ flight launches. That's all sorts of AvGeek fun.