More cheap seats are coming across the Atlantic Ocean in Summer 2018. Primera Air will inaugurate flights in April between London-Stansted (STN) and Newark, growing quickly to serve Boston on the US side and Paris (CDG) and Birmingham, UK (BHX) on the Europe side by mid-summer. Introductory prices start as low as $99 each way and, at least right now, the $99 seats seem pretty widely available.
The carrier will operate a total of 32 weekly flights between the two continents on A321LR aircraft featuring 16 premium economy and 182 coach seats. Newark flights will be daily for all three European destinations while the Boston routes will operate 3-4 days per week, depending on the destination.
Of course, like will all LCC options these days, the introductory fare includes just a seat on board and you won't know which one until day of travel. To get an advance seat assignment, baggage allowance, meals and other amenities means paying a bit more. The $90 up-charge on Primera Air matches what Norwegian passengers will pay for similar benefits.
Passengers looking to travel in even greater comfort can splurge for one of the 16 "premium" seats on board. I've yet to see confirmed details of the cabin layout other than a 2-2 arrangement with extra pitch rather than 3-3. Premium passengers will also receive a comfort kit and personal bottle of water on board.
All seats will have USB power available, according to the company, with Premium seats including a 110V outlet as well. The company has two different images on its website for premium seats showing significantly different products; I'm guessing the more basic, slightly-better-than-coach recliner option is the one passengers will find on board (ETA: Never mind…all the photos on the website are generic stock images from various sources. Almost hard to believe it is real.)
In some cases Primera will be the only carrier operating on a route. Birmingham travelers will see a new option to replace the United Airlines service being dropped this winter, which is a nice recovery for that airport. In other markets there is already strong competition and even strong LCC competition. The Newark-Paris route sees United and Delta flying today, with Norwegian scheduled to add 787 service next summer as well. OpenSkies also operate to Paris-Orly from Newark while La Compagnie has its all-business class flights to CDG. In the case of La Compagnie the A321LR is also significant as the carrier indicated earlier this week intentions to acquire the type and transition from its existing 757 services. Also, just across NY Harbor sits JFK Airport with another heavy contingent of Paris services. LCCs Norwegian and XL Airways (which now owns La Compagnie) are represented there as well. Suffice it to say the Paris-New York market will be plenty competitive in every cabin going forward.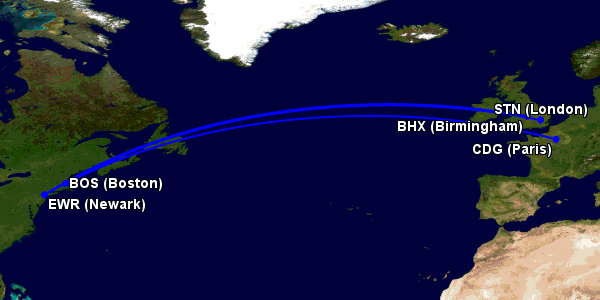 Primera operates a small fleet today, with eight 737NG aircraft. It operates a mix of charter and scheduled service focused heavily on moving holiday makers between Scandinavia and southern European beach destinations. growing its business into long-haul presents both challenges and opportunities. The company is doing so in a relatively low-risk manner, but profits are far from a certainty in these markets.
The carrier has plans for four planes worth of routes announced today but indicates intentions to operate eight A321LRs for its transatlantic fleet. Expect additional destinations announced soon enough.