Yeah, I know I'm not normal. I'm used to that, really. But this trip may be over the top, even for me. I want to be on the final commercial flight for the DC-10 and that means a trip to Bangladesh is necessary. But, thanks to a few changes by Biman Bangladesh Airlines over the past few months I had to wedge this trip in to my schedule between other obligations. Last time I had it booked there was time to explore Bangladesh a bit and otherwise enjoy the experience. This time around, not so much. And so I've assembled a RTW trip for this adventure, leaving San Diego on a Sunday and returning to New York that same Friday. Just a hair over 5 days en route to fly my 18,440 mile itinerary. Here's what I ultimately booked.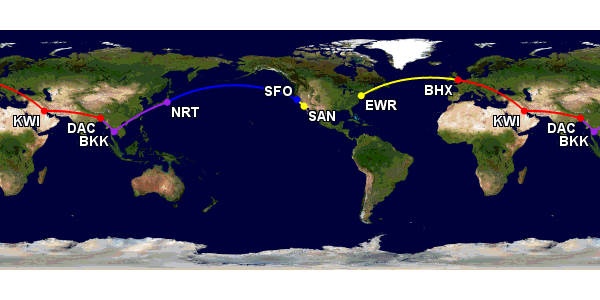 The easiest part of the booking was the ticket on Biman. It was also the last part I confirmed. There's only one option for that flight but I held off on booking in large part because I didn't want to commit the cash to it until I was certain I could make the trip. Sure, it took me a few tries to get the transaction approved by Visa, but I've got a ticket number and I'm all set to go on this part.
I also needed positioning flights to Dhaka and home from Birmingham. Both turned out to be surprisingly easy with award seats available on the days I needed. For the outbound I'm flying mostly on ANA and Thai Airways. I had the option of United metal for SFO-NRT on the 747-400 but chose ANA to get the new in-flight experience (I've never done their long-haul in coach). I'm starting to regret that decision a bit as there are only middle seats available right now, but hopefully something better opens up at the check-in window; the phone agent I spoke with suggested there was a good chance of that working out for me.
I also get an overnight in Bangkok for a few hours which will give me the opportunity to sleep in a bed en route. It is actually a slightly longer total travel time than the trans-Atlantic routing via Istanbul but not sleeping two consecutive nights on a plane seemed like a good idea (maybe the only one I've had related to this trip).
On the way home I had a few options available. The non-stop BHX-EWR flight on United wasn't showing when I first searched so I was looking at a variety of other options via Dublin, Dusseldorf and more. I also really, really, really wanted to avoid paying the APD charged by the United Kingdom. Alas, by the time I got to booking it wasn't really all that much cheaper and definitely less convenient to add the extra short-haul hop out of Birmingham to a non-APD departure point. And so I took the "boring" option home with non-stop service. On the plus side, it means a bit more time for beers in England upon arrival and getting home at the proper time to see my family that afternoon.
So there it is. A simple RTW adventure, built with a bit of purpose. The only down side: lots of time in coach, some of which will be in a middle seat. I didn't really consider that aspect of the booking until I was way too far down the rabbit hole. Oops.
Related Posts: