Hawaiian Airlines is adjusting their operations this Spring, responding to shifts in demand for service. Or, perhaps, abandoning routes which never really materialized and bulking up where they think they can score big. Service between Honolulu and Fukuoka is being cut at the end of June, joining Manila as destinations dropped after a spectacular expansion pace into Asia over the past few years. And, thanks to "robust demand" the carrier is starting service early on their Maui-Los Angeles route (now starting 2 May 14, not 1 June 14) and doubling up frequencies for the summer, thanks in part to the aircraft freed up from the Fukuoka service. They're also restoring service between Honolulu and San Jose, California plus up-gauging the flights between Honolulu and Oakland.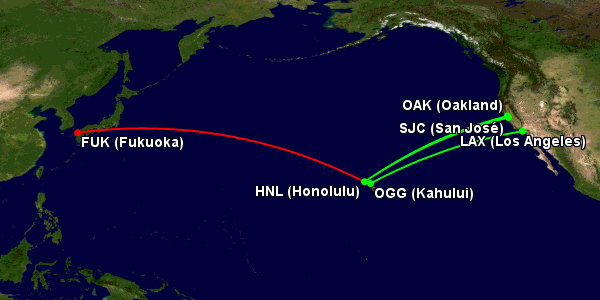 Routes shifting around is hardly new, though Hawaiian seems to be a bit more aggressive about it than other US carriers. Well, I suppose the Delta dartboard has seen some similar results but it is not too common that last-minute seasonal adjustments like this happen. Then again, it is also not too common that airlines have a spare wide-body planes around, something Hawaiian has managed to do with their recent intake of A330s and which will continue in the next couple years as the carrier continues to add A330s at a pace exceeding their retirement of 767s. The carrier also plans to acquire A350-800 aircraft in the second half of this decade but it is not clear that the –800 variant will ever actually be made. Many orders have converted to the –900 model making the viability of the –800 rather suspect.
Of course, the fleet growth means the carrier must continue to find routes which can be profitable on the larger aircraft. Cutting back in Asia might not be such a great vote of confidence on that front. And with increased competition lately between the islands and the west coast of the mainland Hawaiian may not be able to fill those wide-body aircraft too effectively on those routes either. At least they have a few years before the A320neo and 737MAX variants start to fly. Those will increase the potential narrow-body options available to the islands, potentially adding even more competition.
Definitely some interesting things to consider in looking at the future of the carrier.