Delta and its SkyTeam partners are adding more capacity over the Atlantic starting this summer. The increased options from both Atlanta and New York's JFK are mostly about connecting the dots amongst hubs, though there is one non-hub option being added. Delta will serve JFK-Zurich starting in June and flying year-round. They will also operate JFK-Rome daily in the summer and 5x weekly for April, November and December. The service will not operate from January through March. Out of Atlanta an additional frequency will be added on the Paris route, bringing the combined Air France/Delta operation to four daily flights. KLM will also be adding an additional early flight between Atlanta and Amsterdam, allowing for more onward connections to Africa.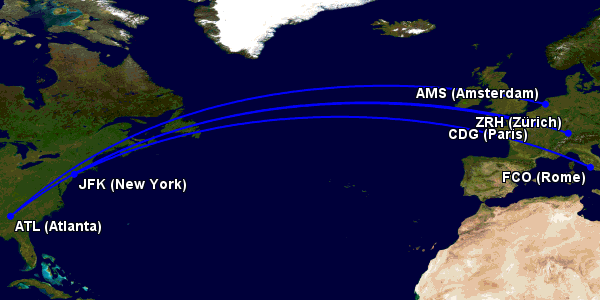 New routes from the Delta dartboard. This time a bit more conservative.[/quote]
I certainly make fun of the "Delta dartboard" as much as the next guy but these routes seem to be a reasonably conservative collection of options. Adding Zurich makes a lot of sense as Delta grows their coverage of business-focused markets out of JFK. And Rome surely has some business traffic, though the lowered frequencies in the winter do suggest it is still mostly a leisure market. More hub-to-hub traffic from Atlanta means better connection options, especially with the early KLM flight allowing onward traffic to Africa, a market Delta has tried to serve directly but which never really took.
It isn't necessarily sexy or special, but this new service should be good for core customers. And that's hard to complain about.
Related Posts: