When Air Canada first announced their Rouge LCC brand the plan was 13 destinations served from Montreal and Toronto using only 4 aircraft. And while there was no doubt that the Rouge route map would expand – at the expense of mainline services, naturally – it is not clear that the pace and breadth of the growth was expected. The Rouge operation is up to 21 aircraft and earlier this Spring headed west to include hubs in Vancouver and Edmonton. The most recent announcement, made earlier this week, will bring Rouge to Hawaii starting in November.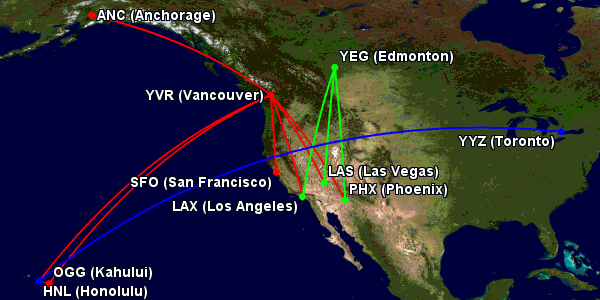 Relative to the east coast operations the coverage out west is limited. Still, the growth presents an interesting challenge for passengers. Those who bought flights as Air Canada-operated and who are switched to Rouge-operated are being given the option to fully refund the existing booking. Plus everyone is being given a 20% off coupon for the new routes (bookings by 10 June 2014 for travel until April 30, 2015 using the promotion code "aloharouge").
Rouge is expanding into markets where Air Canada faces competition from low cost carriers, which in this case is mostly a code phrase for WestJet. And it makes sense in some ways for them to try to compete on a level playing field, which is to say comparable service at comparable prices. But it is not entirely clear that their product or prices really are the same. And the challenges of running an airline within an airline are significant. Just ask Delta's Song, United's TED (RAR!) and others. Still, Air Canada seems committed to this experiment, at least for the foreseeable future. And they're not even to half the number of aircraft they planned to bring in to the fleet.
Related Posts: