Lots of new meal options are coming to the domestic first class cabin on United Airlines as the company revamps its menus. There are four new salads and eight new sandwiches joining the rotation immediately and new entrees to come starting in February 2015. But how do you know which one you'll get on board? Here's a handy flowchart which should help to figure it out.

How long is your flight?
Starting in February flights as short as 800 miles will receive meals in the forward cabin. This will be extended to the United Express fleet "a little bit later but not too far" according to Todd Traynor-Corey, Managing Director of Food Services. Some shorter flights (e.g. ATL-EWR, LGA-ORD, etc.) will also receive meals even though they are technically shorter than the 800 mile cutoff. This will only happen in markets where there is competitive pressure to offer such. The other important threshold is at 1300 miles. Flights shorter than that will receive a sandwich at all times. Longer flights will receive a sandwich or entrée depending on the departure time.
What time is departure?
Shorter flights will receive a cold sandwich for lunch and a hot sandwich for dinner. Longer flights will receive a hot sandwich for lunch and a hot entrée for dinner. In all cases there will also be a hot soup paired with the meal and an option for a salad instead.
Where are you departing from?
Meals are stocked based on the zone the flight is catered from. In the case of a flight which is round-trip catered that means the destination may define the zone rather than the origin. Currently the domestic network is split into four zones with each sourcing a different set of food. The idea is that flying a round-trip itinerary should get you a different meal on the outbound and return, even if both are lunch or dinner flights, as they will be catered from different zones. The current split is as follows:
New York/Washington, DC
Chicago/Cleveland
Houston/Denver
Los Angeles/San Francisco/Hawaii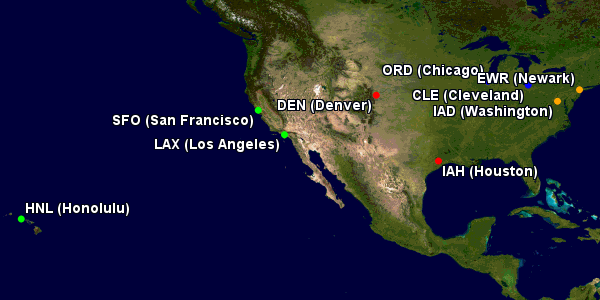 Starting in February 2015 the Houston and Denver zones will be split resulting in five zones across the network. On a month-by-month basis the food options will cycle through each zone (a 5th option will be added in February as part of that split). The rotation will include the soup, salad, sandwich and entrée options. It will also include the bread served alongside the entrée which will no longer just be the same white roll as always.
Refresh cycle
United is also planning on a much more aggressive refresh cycle of the overall menu. Executive Chef Executive Chef Gerry McLoughlin talked about menu fatigue for customers and the need to increase the frequency of changes, "We're focused on redesigning our entire menus every 12 months, wipe the slate clean and start from scratch with new products, new breads, new salads." That is a very aggressive timeline in an industry where going from concept to on-board service can easily be a 9 month process. Then again, I got the impression that McLoughlin was chomping at the bit, so to speak, to be able to get at the menu redesigns. Given how that's a big part of his job it makes sense that he's want to do more of it.