After a short stint running service from Atlantic City, NJ to its hubs in Houston and Chicago United Airlines is apparently pulling the plug on the service. The flights are no longer bookable for service after 2 December 2014. The routes were added as part of a negotiation between the airline and the state to add PATH train service to Newark International Airport. That multi-billion project has not made much news since the United service initiated earlier in the year and there are myriad reasons why it is considered of questionable value anyways.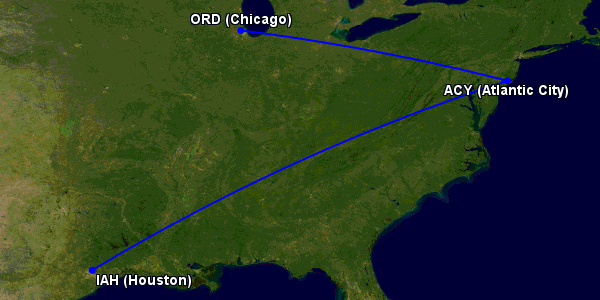 Maybe New Jersey balked at the idea of extending the train so United no longer sees a need to operate the boondoggle service. Or maybe it is just tied to the draw down in 50-seat regional jet service offerings from United as they move to retire more of the smaller planes from their fleet. Or perhaps there's something else afoot.
Either way the move is just one more blow to Atlantic City. The tourism market very well may be past the point of no return in its decline to nothingness at this stage. With multiple casinos declaring bankruptcy recently and a continued decline in visitors and revenue the future is grim. Not that 100 seats a day on badly timed flights was really going to change the fortunes of Atlantic City, but the short operation of this flight cannot be good news for the area.
Update:
United Airlines issued a statement indicating that the service to ACY is not tied directly to the PATH extension project but does note that economics were the driving factor behind the decision to kill the routes:
We're disappointed that the service from Atlantic City International Airport (ACY) didn't meet our expectations and we will end the flights to Chicago and Houston effective Dec. 3, 2014. (Last flights are on Dec. 2.)

As a partner in our hub state's economic development efforts, we agreed to test the Atlantic City market by re-entering it earlier this year.

In every market we serve, we continually review demand for the service and our Atlantic City routes are no longer sustainable.
h/t to the Colonel
Related Posts: