Air Canada's Rouge experiment is turning to domestic routes for the first time in 2015. Two routes will convert from mainline as Rouge goes domestic while another new, seasonal route will be added to the map. This is the latest expansion of the low-cost portion of the operation which management says is necessary for competitive reasons. The carrier currently operates 28 aircraft under the Rouge brand; the union agreement with with pilots allows up to 50 planes in the Rouge operation. It is expected that 41 will be in the fleet (16x 767 + 25x A319) by the end of 2016. In other words, get ready for many more routes from the limited-amenity version of Air Canada.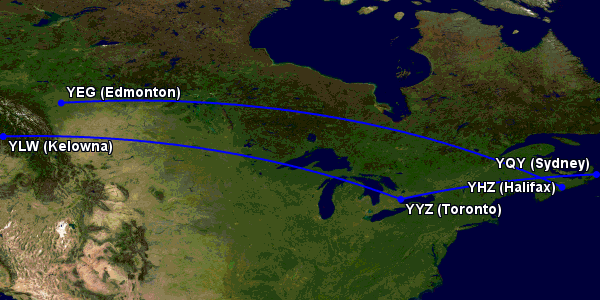 "The expansion of Air Canada Rouge in North America, including on key domestic markets with high leisure demand and to Mexican and Caribbean destinations, remains a fundamental element of our strategy for sustainable, profitable growth," said Benjamin Smith, president of passenger airlines.

…

Air Canada also said it will resume service to Mexico City from Montreal with new Rouge flights starting in May. Rouge will also take over flights to Varadero, Cuba, from Calgary and Montreal, as well as the Montreal-to-Martinique route.
Related Posts: