The US Government is looking to significantly expands its immigration & customs pre-clearance footprint, adding ten new airports in nine countries to the Customs & Border Patrol ("CBP") program. CPB has 15 pre-clearance stations in 6 countries today. Eight of the new target airports are in Europe with one each in the Caribbean and Asia. These 10 stations are not done yet; the news is just that the US Government is entering negotiations to make it happen, but the 10 selected airports were part of a group of 25+ which applied to be considered for such.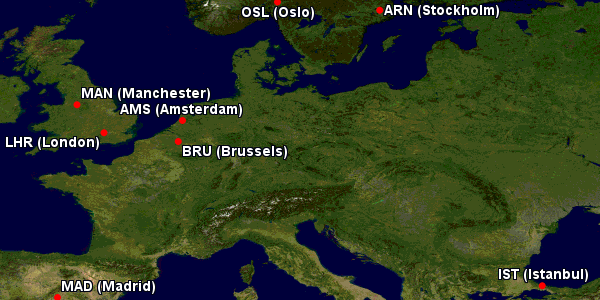 The US CPB says that Pre-Clearance handles 16 million passengers last year and that 20 million arrived in the US from the 10 airports targeted for the program. Adding all 10 could significantly reduce passenger wait times, especially for arriving foreign nationals. Secretary of Homeland Security Jeh Johnson, in a statement, sees all positives from the move:
Preclearance is a win-win for the traveling public. It provides aviation and homeland security, and it reduces wait times upon arrival at the busiest U.S. airports.
Adding pre-clearance means passengers arrive the same as domestic flights, easing connections and the overall arrival experience in general. It also means that the departures experience is a bit different. Depending on the airport the facilities for departing passengers can be limited relative to those traveling to non-US destinations from the same airport.
Most commonly this materializes in lounge facilities which are not available or are not as nice after the pre-clearance check because of reduced passenger usage in that limited area. In Heathrow, Narita and Madrid especially there are US-bound flights operating from multiple terminals today. Getting all of the passengers from these flights to a common departure point would be quite a challenge, especially for connections while still meeting various passenger experience goals. It is unlikely that Virgin Atlantic or British Airways are going to want to rebuild lounges inside a dedicated pre-clearance terminal at Heathrow, for example, though Virgin Atlantic has such a density of flights to and from the USA now that it might not be such a problem. Then again, where there is sufficient traffic (i.e. Canadian trans-border terminals) there are often decent passenger facilities.
It is also worth noting that, as of today, there is only one US flight to Istanbul and that is seasonal summer service from Delta. The Pre-Clearance facility in Ataturk would be used almost exclusively by passengers on Turkish Airlines; a similar facility in Abu Dhabi saw significant opposition because it serves no US airlines. And the operations at that station have been less than stellar based on many passenger reports. But, overall, the program mostly works very well most of the time.