Even as the US airlines report record profits for Q2 2015 – mostly based on a significant drop in fuel prices – there are signs of weakness in certain aspects of their operations. For the "Big Three" network carriers, the pressure on yield has shown itself to be relatively concentrated across the group. For Delta Air Lines the three most challenging cities in the quarter were Dallas / Ft. Worth, Chicago and Orlando. For United Airlines it was Dallas / Ft. Worth, Chicago and Houston (pinched at the high end by a 30% drop in corporate Oil & Gas revenue and at the low end by a significant expansion from Spirit Airlines). American Airlines saw similar challenges at DFW, though it suggests that performance at Chicago was above average for the quarter.
And then, there's Southwest Airlines. The carrier reported record profits for the quarter, just like the other three airlines. And it has significant operations in many of the same cities. Chicago and Houston are hubs, and Orlando has 40 non-stop destinations available. And unlike  the other three carriers, Southwest is seeing a tremendous uptick in performance at Dallas. CEO Gary Kelly described the performance at Love Field as "remarkably strong, surpassing system average margins and returns." So, why the difference?
Yes, the other carriers have average numbers higher than Southwest's for yield and PRASM but they all cited softness at Dallas as dragging down their numbers while Southwest says it is above its averages at Love Field. It is easy to attribute the strong performance to Southwest's near-monopoly position at Love Field. The carrier operated as many as 166 daily flights in Q2 and will be up to 180 in Q3; it controls 18 of the 20 gates and has strongly resisted efforts from others to access those gates. And, yes, this is the first year where the carrier has been able to fly longer segments out of Love Field during a Q2 as the Wright Amendment has finally been retired. But is that the whole story? Not really.
During the American earnings call executives noted that there were definitely yield pressures at DFW thanks to increased capacity and competition from across town, but also that it is the ULCCs where the strongest competition is showing. In this case that mostly means Spirit Air.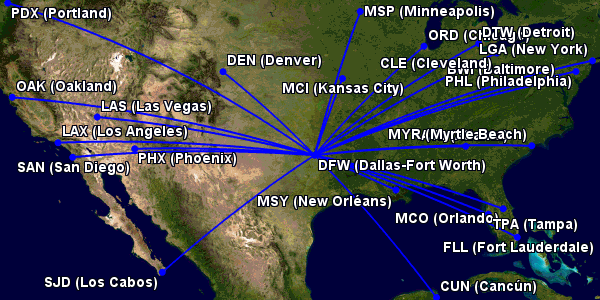 Spirit operates to 24 destinations non-stop from DFW and, while that's a fraction of the coverage American or Southwest can provide, it turns out to be enough that it is pressuring yields for the others. American's President Scott Kirby stated outright that "customers care about price; we've won back some market share which we lost by not being cost competitive." Later in the call it was noted that the company is matching the ULCCs and LCCs in significantly more markets than it was a year ago. For the other carriers there are similar pressures. In 2011 when Spirit showed up at DFW it was mostly ignored. That is no longer the case today.
And so, despite carrying well more than half the traffic in the Dallas Metroplex region, American is feeling significant pressure from the smaller players. Spirit is a quarter the size of Southwest in Dallas and one twentieth the size of American, yet it can still dictate some pricing and capacity decisions.