Last week's new route summary offered up details on, among other things, new service to St. Helena, one of the more remote places in the world without flights today. Turns out that once a month there will be an extra tag flight from St. Helena on to Ascension with an overnight turn and hop back the following day. Talk about a great way to visit a couple remote places.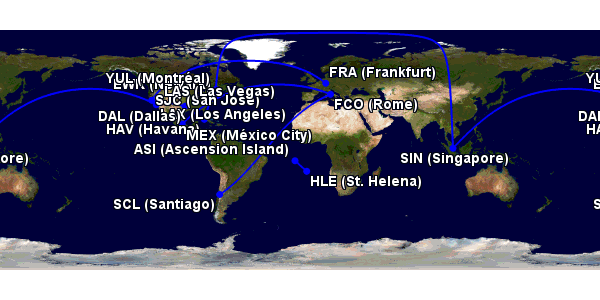 Singapore Airlines is bringing back its ultra-longhaul service as the launch customer for the Airbus A350-900ULR. Expect to see flights from Singapore to both Newark and Los Angeles return in 2018.
Lufthansa is adding service from Frankfurt to San Jose, California starting in the Summer '16 season. The flights will operate on an A340-300 offering business, premium economy and economy class service. Shortly after launch it will transition to the higher-density Cityline A343s with fewer business class seats. Quite interesting to see the incremental service added beyond the significant capacity into San Francisco just up the road.
Air China is the big winner in this week's 5th Freedom routes announcement. The long-rumored service from Montreal to Havana will start in December, flying 3x weekly on a 777-300ER.
Air Berlin is bailing on Russia come mid-January. The carrier currently operates 32 weekly flights from Germany to Russia. It will depend on oneworld partner S7 to cover that service going forward. Given the recent announcement of Transaero's collapse and other ongoing financial issues in Russia this sort of cut raises more questions about the long-term viability of international service there.
Virgin America is shifting its sights in Dallas. After running 5x daily between Love Field and Austin for the past 6 months or so the carrier is finally dumping that marginal service, putting twice daily flights to Las Vegas on the schedule instead. The Austin operation was a great way to ensure gate utilization at a relatively lower cost but not a great way to build out passenger flow or reasonable yield traffic. The service shift takes effect on 1 December 2015. Of course, moving service to Vegas doesn't mean that Virgin is guaranteed an easy go of things. It will now represent two of 19 daily flights between the cities; AA has 10, Southwest has 5 and Spirit has 2.
Alitalia, under the new Etihad leadership, is making big moves. Included in that are two new destinations in the Americas starting in Summer 2016. Santiago, Chile will see service from May and Mexico City is added to the route map in June. The company also is adding limo service for some business class passengers, upgrading lounges and committing to wifi on its longhaul fleet. Of course, the management situation is still a bit unsettled so we'll have to see how that all plays out over time.