Some of these make sense to me, some not so much. All are new routes announced in the past week or so.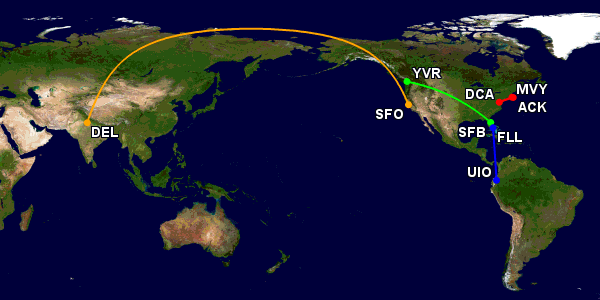 JetBlue is launching service to Ecuador starting in February 2016. Service from Ft. Lauderdale to Quito will run as a late night flight southbound and a redeye return on the company's A320s. We had a pretty good time visiting Ecuador a while back and I could see it as an appealing destination. This also makes it a smidgen easier to access the Galapagos, though Guayaquil is the better gateway for such trips.
National Airlines (who?!?) is adding flights to its base in Sanford, Florida (just outside Orlando) from Vancouver (2x weekly) starting in January 2016. This will also be a redeye into Florida. The company is launching service to Windsor, Ontario a month prior.
American Airlines is adding summer seasonal service from Washington, DC to both Nantucket and Martha's Vineyard between Memorial Day and Labor Day in 2016. JetBlue operated similar seasonal service to Nantucket in 2015 and is set to offer similar in 2016, though with a slightly longer season.
Air India was rumored to be launching a new World's Longest Flight. That fell through and instead of connecting San Francisco and Bangalore with non-stop service the ailing carrier will fly between Delhi and San Francisco thrice weekly starting on 2 December. Still a very long flight, though. This will be the fifth nonstop route connecting India and the United States and the first to the west coast.