The summer seasonal routes are out from Delta and United Airlines and that means some fun new options to cross the Atlantic Ocean. Plus United is growing its 787 network and an update on one of the most remote routes in the world.
Summer Season '16
Delta will be adding service from Minneapolis to Rome (daily) and Detroit to Munich (6x) starting in Summer 2016. These two routes are starting during the summer season but are actually scheduled to remain year round. They complement the previously announced Summer routes of RDU-Paris, SLC-London and JFK-Edinburgh.
United has a handful of Summer-only routes coming, including resumption of Newark-Athens plus addition of flights from Dulles to both Lisbon and Barcelona. Very much focused on the leisure traffic markets here but in the summer that can be a profitable exercise.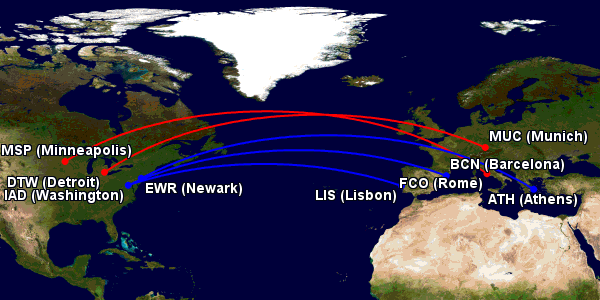 The United 787s
United has previously indicated it will be concentrating its 787s at its west coast hubs to strengthen its position there. That effort was redoubled with the announcement of two more routes this week from San Francisco. Tel Aviv will see 3x weekly service from the west coast beginning on 30 March 2016. Service from San Francisco to Auckland, New Zealand will also be added, starting 3x weekly  in July 2016 and expanding to Daily service at the end of October, after the seasonal service to Xi'an ends.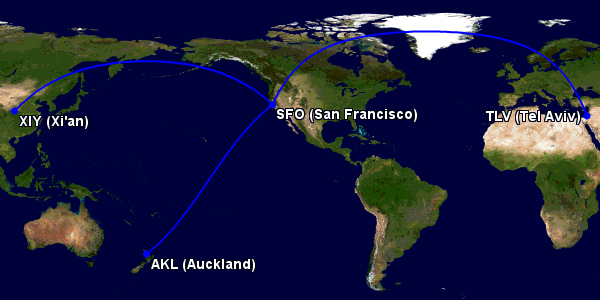 Finnair Loves Asia
Finnair continues its growth into Asia with two more routes announced for Summer '16 from the Helsinki hub. Fukuoka, Japan will see 3x weekly service starting in the spring and Guangzhou, China gets 4x weekly service from May-October '16. Both flights will be on A330s.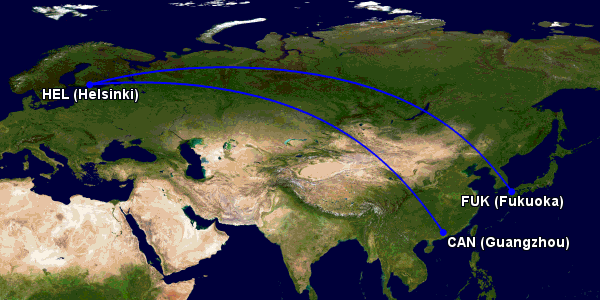 Going Remote
One of the world's most remote islands is nearly ready to inaugurate air service. St. Helena is targeting February 2016 for its once weekly service from Johannesburg, pending certification of the new runway construction. The flight will be operated by British Airways franchisee Comair. A specific start date and fares are not yet available.
Less Certain
No specific dates on some other potential routes, but EVA is looking at Istanbul, Delhi, Cebu and Chicago as upcoming destinations.
EVA Air says new destinations in 2016 are: Istanbul, Cebu, Chicago and Delhi.

— Will Horton (@winglets747) October 9, 2015
And Aer Lingus is expected to announce service to Hartford (I guess because a 757 can reach) and Los Angeles, plus maybe Miami.
Aer Lingus expected to shortly announce service to Hartford and Los Angeles. Miami could be announced at a later date.

— Will Horton (@winglets747) October 11, 2015