Singapore Airlines is launching service from Singapore to Canberra, Australia with continuing, fifth freedom rights to Wellington, New Zealand. This will be the only international route for Canberra (two routes, really) which takes the country out of a very rare group (I'm not actually sure there are other members, assuming the country has airports at all) of countries where the capital has no international air service.
The big question is, Why? How will the carrier fill seats (profitably) on the flight?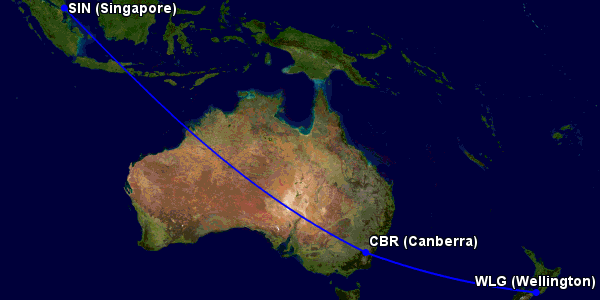 The flight from Singapore to Canberra is comparable in length to that of Sydney or Melbourne. Each of those cities has a population near 4 million people; Canberra doesn't reach a tenth of that with its 356,000 residents. Wellington is even smaller at around 200,000 residents. And that flight is 1,400 miles long. It is roughly the equivalent population/distance as flying between Tampa and Des Moines or Lincoln. It is a questionable route in many ways.
Singapore Airlines to launch SIN-Canberra-Wellington: ostensibly capital express, more likely reward ticket express and staff travel express

— Will Horton (@winglets747) January 20, 2016
Sure, there might be some cargo action at play. But probably not too much. And the flight times will almost certainly require staging a crew in Canberra (fly SIN-CBR, overnight, CBR-WLG-CBR, overnight, CBR-SIN). That adds costs to the setup. This one has me scratching my head quite a bit.
The 4x weekly service starts in September; tickets go on sale this weekend.