How would you plan a trip to a wedding in Bangkok around New Years? Let's say you had about two weeks to travel (or maybe four weeks, once other plans got added in), from Christmas through the full week after New Years and otherwise a decent amount of flexibility. What's your approach? I hope, for your sake, it is not quite as crazy as mine. I ended up buying 10 separate tickets for the trip.
Step 1: Get Close
When we decided we were going – about 10 months prior – I started looking for business class award space. It is not always easy to find such all the way to Asia, especially around the holidays, but flying out on Christmas Eve helps with that. In the end I found seats from JFK to Bangkok via Cairo. It was a double red-eye with an eleven hour layover in Cairo but I figured that should be enough time to see the pyramids. Plus, with free changes and cancellations due to elite status it was a safe backup plan. I booked them.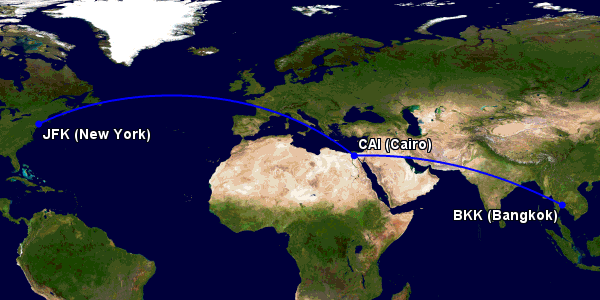 Step 2: Halfway Home
I didn't have much in the way of plans for getting home from Bangkok, figuring that either I'd find award space or a cheap fare or something would come along. I was not disappointed in that expectation. A couple weeks after I bought the tickets to Asia a deal came along on Air India for a business class seat to Italy. Sure, that wasn't quite home, but it was closer than Bangkok. And there are lots of ways to get home from Europe. I snagged a couple of those (ticket #2) for us. There were schedule changes along the way which cut short our time in Bangkok but we kept the flights and spent an extra day in Rome; it worked out nicely.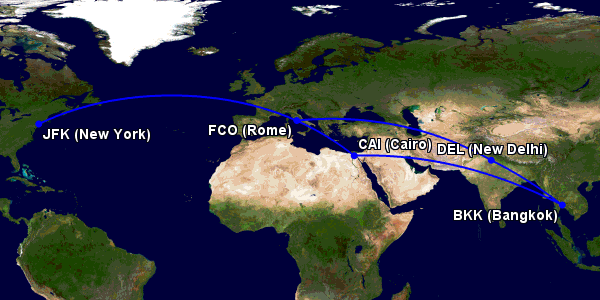 Step 3: Home from Europe
After a week in Rome it was time to head home, at least for one of us. I had booked an award ticket (#3) for my wife a couple months out while availability was wide open. A week before we left on the trip it came to pass that SkyTeam carriers were selling ridiculously cheap seats originating in Rome for travel to the USA. I returned the award and booked her a revenue seat instead (still ticket #3). I chose the Nice, France connection assuming that the smaller airport would be easier to transit, plus I wanted to live vicariously through her snagging the NCE-JFK line. That was a very, very bad plan thanks to temporary border controls being reinstated by France and the connection being a complete mess. But she made it home in one piece.
I did not go home at this point. I had another event in Europe the following week so I just stuck around, wandering my way west to Portugal. That meant a few train rides and more flights. Getting home from Europe for me came thanks to another mistake fare, leaving Oslo for JFK in business class on British Airways and American Airlines (ticket number 3 for me) and even scheduled the return half to coincide with my next conference in Europe so I'll be comfortable on the return, too.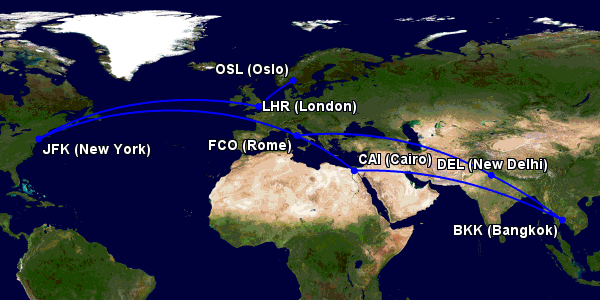 Step 4: Get Away
We REALLY did not want to spend 10 days in Bangkok. But where to go? We settled on Cambodia and specifically Siem Reap to see Angkor Wat and such. Alas, there are no Star Alliance flights from Bangkok to Siem Reap so that wasn't going to work on the award ticket. Instead we extended the award to Phnom Penh, Cambodia and decided to take the boat from there to Siem Reap. No additional tickets because it was just a change to the original award booking. While in Siem Reap we decided to do a helicopter tour over Angkor Wat. That was an incredible 15 minutes and another aviation ticket, though it was the last one purchased through the trip.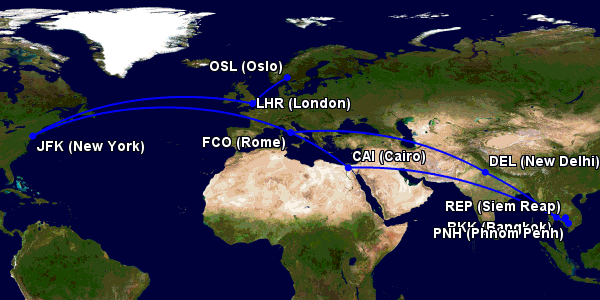 Step 5: Back to Thailand
After spending a few days in Cambodia we headed to Northern Thailand to hand with friends in Chiang Mai and Chiang Rai. Ticket four of this adventure was on Air Asia Thailand, flying from Siem Reap to Don Meung (DMK) airport in Bangkok and then on to Chiang Mai. After a few days in the north, including a spectacular New Years Eve celebration in Chiang Mai, we boarded ticket five, Chiang Rai to Bangkok (BKK) on Bangkok Airways, arriving the night before the wedding celebration.
I will say that I was slightly disappointed in the fares on the "LCCs" from Siem Reap to Chiang Mai – they were FAR from cheap – but I also recognize that it is the peak holiday travel period and we were moving between two heavy tourist areas. Such is life.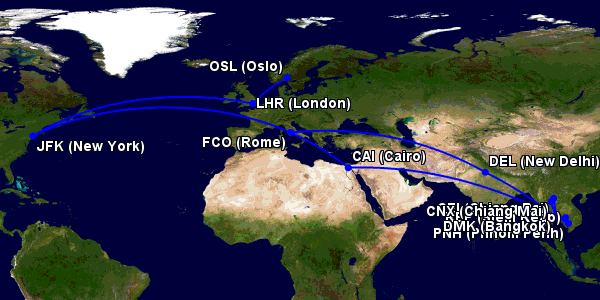 Step 6: Splitting Up
After sending my wife off to the airport for her trip home I went north to San Marino on the train. I was going to hit the small principalities of Europe during my week of exploring. Included in this was ticket number six, Bologna to Barcelona, connecting San Marino and Andorra once the extra train and bus rides figured in.
Step 7: Finally in Portugal
Andorra to Portugal was relatively easy. Even though my event was in Porto I booked in to Lisbon (ticket #7), mostly because there were more and cheaper flights, but also because SATA flies its Airbus A310 from there to the Azores a few times a week. Ticket number 8 was that SATA trip, out to the Azores for a few hours and then back to Porto, collecting fun lines and dot and aircraft types. Alas, Hurricane Alex quashed those plans.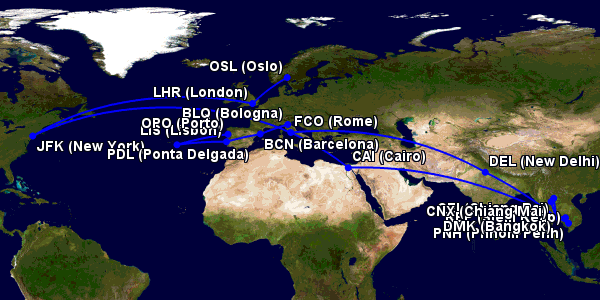 Step 8: Oslo or Bust!
After Porto I still had to get to Oslo to catch my flight back to New York City. I left myself a couple days' buffer time but still needed to figure out flights. Eventually I settled on flying from Porto to Stockholm's Broma Airport on a combination of TAP Portugalia and Brussels Air (ticket 9), mostly to get the "other" Stockholm airport experience. And then a train over to Oslo the next day, relaxing and enjoying the views as we rolled through Scandinavia.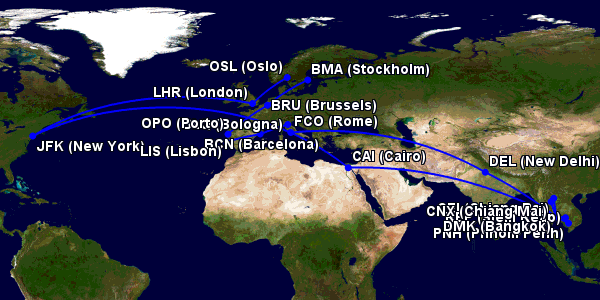 That's All, Folks
So, nine tickets from common carriers plus one from the helicopter tour operator rounds out the ten I bought. Eventually SATA refunded the fare so I only flew on nine of them but that's still a lot of planning going in to one trip. Oh, and there were the boat in Cambodia and trains in Italy and Portugal and Scandinavia, many of which I screwed up at least once in the purchase process.
It was a spectacular trip and I loved just about every minute of it. Lots of stories yet to come about the flights, the sights and other highlights.