Qatar Airways made the announcement official today: It will launch service from Doha to Auckland later this year, seizing the crown of World's Longest Flight by 208 miles from Emirates which only took the lead earlier this month when it launched service to New Zealand's largest city. Details of the new route – and 13 others – were made public at the 2016 ITB conference in Berlin.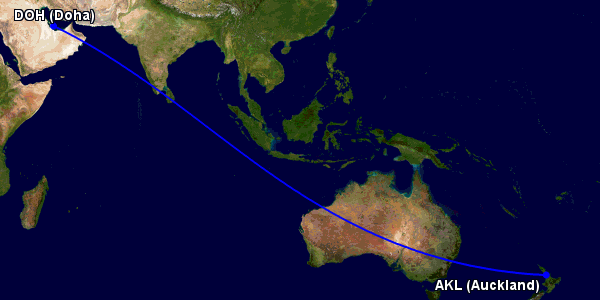 The ultra long haul route will connect passengers to scores of destinations in Europe, Africa and the Middle East, mostly with conveniently timed flights through its hub in Doha. North and South America are options, too, though much more the long way around for those destinations than crossing the Pacific.
The other destinations announced today include:
Pisa, Italy starting on 2 August with daily non-stop A320-family service
Sarajevo (Bosnia) will start on 7 September, with three flights per week on A320-family aircraft
Daily non-stop flights from Doha to Helsinki (Finland) will start on 10 October on A320-family aircraft
Three times weekly service between Doha and Skopje (Macedonia) in November on A320-family aircraft
Nice (France) by summer 2017, with five flights per week with wide-body aircraft
Marrakech (Morocco) will begin in July, three times per week on the airline's Boeing 787 Dreamliner aircraft
Four flights per week between Doha and Windhoek (Namibia) will begin on 28 September
Daily scheduled service to the Seychelles will resume on 12 December
Douala (Cameroon) and Libreville (Gabon) utilising one aircraft three times weekly starting in January
Doha to Lusaka (Zambia) three times weekly will begin by summer 2017
Four flights per week to Krabi (Thailand) on 6 December and three flights per week to Chiang Mai (Thailand) in December
That's a lot of less than daily service and a decent number of routes on smaller aircraft flying up to six hour stage lengths. But that's also the way Qatar Airways is growing – slightly more measured than the big boys across the way.
As for operating the world's longest flight, it is unclear exactly what the value proposition of that is save for bragging rights. Or pushing an extra couple hundred people through the company's ever growing route network each day. And Qatar Airways seems to be keen on both of those plays more than not.