It started as a hunt to fly on the Antonov An-26, a prop plane produced in large volume in the late 1970s and still (theoretically) flying today in a few areas, including domestic trips in Cuba. I was going to be in country anyways for a few days and what better way to spend my time than exploring on Aerogaviota, the local airline, and a relatively ancient aircraft. And so I booked my flights from Havana to Cayo Coco and back, hoping to get the Antonov and other adventures along the way. I was stymied in part when an ATR-42 was substituted in for my flights, but that was just the beginning of the fun.
Aerogaviota offers local flights within Cuba from its base in Havana. That base is split, however, between Jose Marti international airport ("HAV") and Playa Baracoa ("UPB") some 30-45 minutes west of the city. My flight departed at 6am from Playa Baracoa, necessitating a ridiculously early wake-up and drive through the quiet streets of Havana. Eventually my driver slowed then made a u-turn on a dark road; I was convinced we were lost and that missing my flight was a very likely result. Turns out we were at the airport. It was so dark that I didn't see the low-slung building alongside the highway.
Check-in was relatively easy for me; I presented the itinerary I had received from my online booking through Cuba Travel Network and was given my boarding pass. I briefly looked at the cantina adjacent to the terminal for some food and was rather unimpressed so instead made my way through the security screening and sat in the sparse waiting room awaiting the call to board our aircraft. Walking out from the building to the plane is when I noticed it was an ATR. Slightly disappointed I still made my way on board into my exit row seat (I didn't request that but also didn't decline it) and awaited the safety briefing for our flight. I'm still waiting. Okay, so no formal safety briefing on board, but the flight was short and I know how to fasten a seatbelt so I wasn't too worried.
At just under an hour in duration the trip rated in-flight service in the form of soft drinks and a basket of hard candies passed around by the flight attendant. Nothing special but enough to get some sugar into my system, much needed after skipping breakfast in the terminal.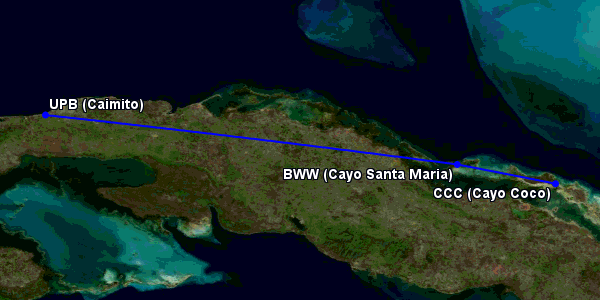 And then we were beginning our descent, presumably into Cayo Coco, the destination to which I had booked my nonstop flight. Except we weren't. Were were at Cayo Las Brujas, some 50 miles west of our intended destination. And we had to get off the plane and go inside, something I only eventually understood from the Spanish the flight attendants offered up. On the plus side, it offered some great views of the plane and the opportunity to visit a second tiny airport that morning. Turns out the carrier flies it as a triangle route, collecting and dropping passengers off at both beaches every day.
After 20 or 30 minutes of milling about in the terminal we were allowed back on to the plane and eventually made our way to Cayo Coco. The second hop was sufficiently short that it offered neither a safety briefing nor the candy & soda service.
Upon further review, despite publishing the An-26 in its schedules and still listing it on the website a year later, it appears that Aerogaviota has actually retired the type from service. The carrier has just one operational ATR as best I can figure, even listing a few in its fleet. The plane is beat up and appears to be borrowing parts from the others listed in the fleet (I saw another stripped rather bare upon return to Havana the following day). But it still flies, and even mostly on time for my flights.
Overall mostly a decent experience. My lack of language skills certainly impaired some of the interaction with the crew but the flights were as smooth as a low-altitude prop in the Caribbean summer can be and we (eventually) got where we were supposed to be. No Antonov but still plenty of fun. And it set the stage for my return flight the following morning, a far more interesting affair.
Read More: