Air Canada spent the past few weeks teasing long-haul expansion plans. Last week it announced Montreal-Beijing Shanghai service. This week six more routes were added to the mix, two each from its hubs in Montreal, Toronto and Vancouver. Only one of the new routes is daily service and four of the six will be operated by the company's Rouge LCC arm.
Lots of new @AirCanada routes for 2017. New service to BOM, TXL, TPE, NGO, MRS and ALG. pic.twitter.com/psVLfXhI0j

— Edward Russell (@ByERussell) September 28, 2016
Montreal
Marseilles and Algiers are the new destinations set to operate from Montreal. Both will start in June 2017. Marseilles will fly thrice weekly and Algiers four times. The Algiers service joins Casablanca as a French-influencd North Africa destination. is also special in that it is the only Africa destination Air Canada serves.
Toronto
Berlin will be added to the Toronto route map as a Rouge destination 4x weekly for Summer 2017. Mumbai adds 3x weekly service on a 787-9 as one of the few mainline routes to be part of the expansion.
Vancouver
Not surprisingly Asia is represented in the Vancouver expansion, with Nagoya and Taipei routes being added. Nagoya service will be 3x weekly on Rouge starting in June, increasing to 4x in July and September. Taipei is the only daily service being added as part of the expansion. The route will be served by a 787-9 starting June 8th.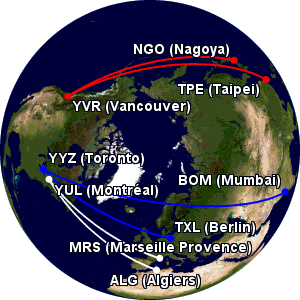 Growth is good and Air Canada is not shy about its plans to use the Rouge arm of its operation to strike strategically. The four new Rouge routes are definitely VFR/tourist-focused and should be able to survive and thrive, especially with limited direct competition. The new mainline routes are decidedly more business-focused and the Taipei route in particular has potential, though it also faces the most competition; China Airlines and EVA both fly the route daily as well.
Header image: Air Canada Rouge 767 at Vancouver; courtesy of Air Canada