Has anyone heard from Mexican aviation authorities lately? And if so, can you get them to call Southwest Airlines and American Airlines? Both are waiting anxiously for paperwork to be approved so that new routes can be launched. It does not appear that the government agency is responding to any requests at all from US carriers right now. A new bilateral treaty signed in late 2015 took effect in July 2016 and should have enabled significant expansion of service between the two countries. But something is not quite right with the implementation.
Southwest launched three new routes from Los Angeles International Airport (LAX) to Cancun, Los Cabos and Puerto Vallarta last week. But it did so having not received the necessary paperwork approving the operation of such routes. American Airlines similarly planned the launch of a flight between Miami and Merida. The commonly seen fine print for new international routes of "Subject to Government Approval" is nearly always a matter of filing the paperwork and getting an approval reply. It is bureaucracy, to be certain, but rejections or delays in such applications are rare. Right now, however, the Mexican authorities appear to have gone silent on approving such route additions.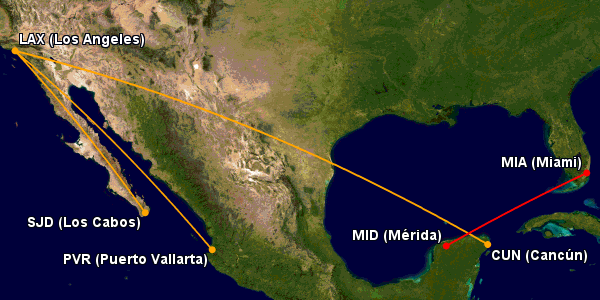 Southwest's operation of the new flights was a questionable move. Technically they are not authorized and the company could see some trouble for operating them anyways. As of mid-week the 10 daily flights were being canceled and passengers rerouted through other gateways. The routes are still for sale – and still with the government approval disclaimer – but it is unclear when Mexican authorities will deign to bless the US carriers with approval for these new routes. This could be particularly bad news for the Southwest and its passengers headed in to the Christmas/New Years peak season.
And I cannot help but wonder if this is a case of US aviation policy failings coming home to roost. The DoT spent three years avoiding approval of Norwegian's application for its Irish subsidiary to operate US flights, despite "no avenue to reject" the application based on the treaties. Mexico similarly has no reason to reject the applications it has been presented with, but after months in a pending state they are still awaiting action. There's also a chance that the Mexican authorities feel the US was too harsh on Aeromexico in its proposed joint venture with Delta, demanding far more slot pairs be ceded at New York's JFK and Mexico City's Benito Juarez airports than the Mexicans asked for, though that ruling came from the US well after it was expected that the Southwest and American routes would be approved.
And then there's the possibility that this is political retribution. A delay during the final months of the US presidential election where comments about Mexico played an outsized role is not out of the realm of possibility. The country choosing to use this as a negotiating point is probably not fair but also not completely unheard of in international relations. If this is the beginning of a renegotiation of NAFTA things could get ugly in a hurry.
In the mean time, don't expect much to come in the way of new service between the Mexico and the United States. That's bad news for travelers and airlines and the rule of law. Ouch.