Southwest Airlines fueled its early growth through service to smaller airports in point-to-point markets that larger airlines chose to ignore. Today the carrier is on par with the "big three" in terms of market share and the small airport play is no longer sufficient. And gaining access to slot-restricted airports remains a challenge. The company bought AirTran to gain slots in Atlanta, New York's LaGuardia and Washington, DC's National airports. And now it turns out it is losing some of the DCA slots, plus others on the west coast.
The DCA slots date back to a 2009 deal between AirTran and Continental Airlines to trade Newark access for landing rights at National airport. Part of that deal stipulated that if Newark removes its slot controls the DCA slots would revert to Continental. And with the FAA choosing to open Newark up late last year that's exactly what happened. Southwest returned the three slot pairs to United, cutting one frequency to each of Chicago-Midway, Milwaukee and Houston Hobby airports. United allocated the slots to Newark, Chicago-O'Hare and Houston Intercontinental service.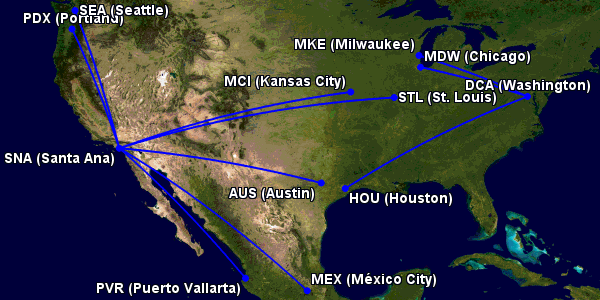 On the west coast the cuts come thanks to increased demand from other airlines. John Wayne airport in Orange County, California limits the number of aircraft operations to control noise in the surrounding community. Unlike neighboring Long Beach, however, SNA has historically operated with sufficient slots that Southwest had access to more than its default pool of flights because other carriers chose to not take their allocation. That changed in 2017 as Delta Air Lines, Alaska Airlines and United each increased their planned operations for 2017. By "taking back" their provisioned slots those carriers removed 7 daily flights (and nearly a million seats over the course of the year) from the Southwest portfolio. Puerto Vallarta, Mexico City, Austin, Kansas City, Portland, St. Louis and Seattle will no longer be offered by Southwest at SNA. Of those, Puerto Vallarta is being back-filled by Alaska Airlines.
The company has been looking to reduce its total capacity growth for future quarters so the trimmed routes help on that front. But it is unclear that these would be the first choices for routes to kill, especially as some of the recent adds at SNA were proving to hold their own on both loads and yields.
Southwest launched the MCI-SNA route in NOV15. The most recent DOT data available shows JUN16-SEP16 load factors on the route exceeded 94%. pic.twitter.com/0xsc38RrOm

— Justin Meyer (@JustinMeyerKC) December 28, 2016
Oh, and the carrier may have already found another way to use some of its aircraft. Cincinnati-Northern Kentucky Airport (CVG) is expected to be announced as a new destination later this afternoon. Though that announcement comes at the expense of service to nearby Dayton airport.
Southwest will end service to Dayton in June, expected to replace with #CVG flights: https://t.co/WlPaqQZk9N

— Edward Russell (@ByERussell) January 4, 2017