I've been racking my brain much of the morning trying to come up with an example of an airline adding a tech stop on a route to protect its crew. So far I've come up short. But United Airlines is doing precisely that with an adjustment on its service from Houston to Caracas starting in April. The service will include an hour-long stop in Aruba to swap crew before continuing on to Venezuela rather than flying non-stop. United does not have local traffic rights on the Houston – Aruba segment for this flight.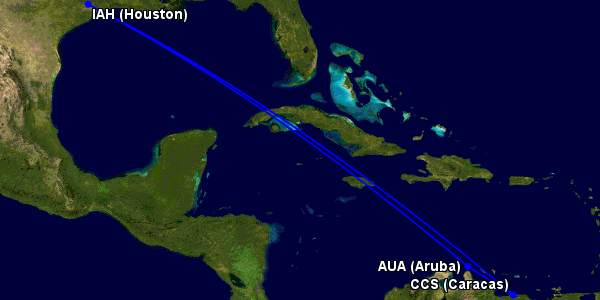 The flight from Houston to Caracas is just long enough (4:50 southbound, 5:25 northbound, plus turn time) that one crew cannot operate the out and back turn. And the conditions in Venezuela continue to deteriorate to the point that the airline no longer wants to leave crew on the ground overnight as part of flight operations. That means either flying with augmented crew (extra pilot on board) as United does for some Guam operations or stopping along the way. In this case adding the tech stop in Aruba seems to be the way to go.
The new schedule is set to begin in April 2017 and will have the plane on the ground for an hour in Aruba to swap crew, with the replacement team flying Aruba-Caracas-Houston on the same day. It is also a brutally short redeye trip southbound, but the target market is not so much leisure travelers looking for comfy flight times so that might matter less overall.
One other example I think might qualify is KLM moving its crew to overnight in Cyprus rather than Tel Aviv in 2014 but I don't know the exact details of those flight routings; I think the crew may have ferried out separate from the main flight operations.
Header image: An old photo of the arrivals board at Caracas Airport by Tadashi Okoshi via CC-SA/Flickr with multiple now-departed airlines listed.