Alaska Airlines was recently questioned on whether it would keep operations at both Love Field and DFW airports in Dallas. The Carrier responded that it had no intentions of cutting service to either. Today it indicated just what that will look like in the near future.Starting this fall the combined carrier will shift schedules and capacity at Love Field, bringing smaller aircraft to the market and dropping service to Las Vegas while adding flights to Alaska hubs in Seattle, Portland, San Diego, and San Jose (SJC). Seattle and Portland service begin on August 27, 2017; San Diego and Sano Jose commence on February 16, 2018.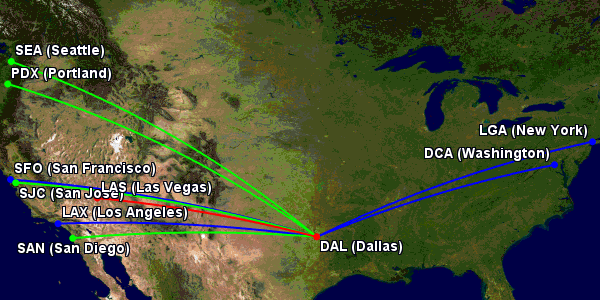 Virgin America's operations in Dallas have shifted a few times since the hard-fought campaign to gain rights to operate at the airport. It first offered up Chicago as a destination then Austin, Texas in hopes that the short hops would at least improve aircraft utilization while reducing costs. Eventually Austin was slashed and replaced with Las Vegas. With virtually no connecting flow and limited frequencies the ability for Virgin America to compete on those routes was very, very challenged.
The new planned service will fly mostly on SkyWest-operated Embraer E175 aircraft, a move described by VP Capacity Planning John Kirby as "matching the right plane to the right market." These routes will also benefit from more significant passenger feed from hub operations on the west coast. Kirby describes the Love Field service as "mid-sized routes," a term Southwest Airlines or American Airlines might dispute as those carriers operate significant mainline service in competition with these new routes. Still, Alaska Airlines at least brings a critical mass of passengers to these new routes from its hubs. Combining that with lower operating costs should improve profitability of those operations.
The move also frees up a few A320s back into the fleet. Expect to see those move back to the west coast where the carrier continues to adjust capacity and operations as it bulks up in the highly competitive the north-south markets.