This week's POTUS visit to the Middle East presents plenty of logistical challenges on many fronts. Among them is the scheduling of consecutive state visits in countries without diplomatic relations. A trip from Riyadh and Tel Aviv is relatively trivial for Air Force One to make as it is not subject to the various aviation agreements between the countries it moves between. But the Delta Air Lines 757-200 carrying the press is just another charter flight, subject to typical rules and regulations for operations. And that means it was not permitted to make the same trip yesterday.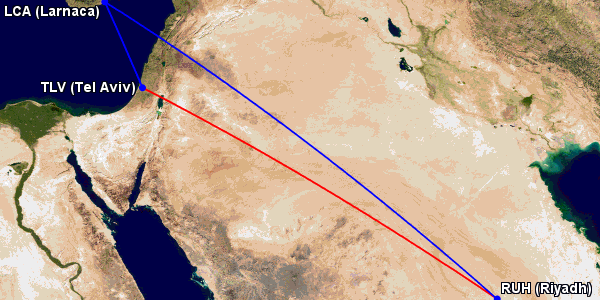 The chase plane flew instead from Saudi Arabia to Larnaca, Cyprus, taking a short break on the island nation before continuing on to Tel Aviv. The pause at Larnaca was an hour-ish longer than initially expected from what I can see in the flight plans; not so sure why that is.
UPDATE: Maybe not that long in LCA, after all, but late out of RUH??
DL8877 Flifo @WandrMe pic.twitter.com/Uj3bmTTUJJ

— CH (@tdh18ny) May 22, 2017
Sure, the couple extra hours en route for the media isn't a major deal at the end of the day, but it does highlight some of the geopolitical challenges that likely aren't going to change much any time soon.
https://twitter.com/spectatorindex/status/866565810893881348
I cannot help but wonder if this is one of those "just because you can doesn't mean you should" situations. Is it wise, fresh off a $100bn+ arms deal, to flaunt the rules and disrespect the host nations?
Also worth noting that this is far from the first time Larnaca has been used as a proxy for Tel Aviv. In 2014 KLM had its crew to overnight in Cyprus rather than Tel Aviv, for example, as a security precaution. And it was not alone in that move.
While @POTUS was able to fly direct RUH>TLV press charter was not able CC: @flightradar24 @AirlineFlyer @WandrMe @JakeTurx @PressSec @whca pic.twitter.com/S3AAUCsU74

— CH (@tdh18ny) May 22, 2017