A couple months back Bombardier performed test flights with its CSeries aircraft at London's City Airport. The short runway, tight navigational corridor and noise restrictions all contribute to challenging operations at the small, in-town airport and Bombardier's newest jet performed perfectly in the trials. As it departed following the tests the manufacturer the plane up with a weight configuration approximating a full, all-business class cabin. And from there the plane flew nonstop to JFK airport, beating the current version of British Airways' service between those two airports that operates on an A318 and with a technical stop in Shannon, Ireland. The A318 cannot carry enough fuel for the full crossing westbound and also get airborne with the limits at City Airport.
No doubt that was a shrewd marketing move as Bombardier looks to secure future sales, but it also comes as British Airways is scaling back the route's operations. The carrier just sold off its second A318 as the route drops to 6x weekly for the foreseeable future, with neither plans nor the ability to grow. But, based on a press release I received today, BA might have some competition on that front.
New C Series route between City Airport and New York: Bombardier's CSeries was recently certified to fly out of London City Airport, a tremendous achievement given the short runway and restrictions. SWISS will operate a direct route to New York later this year. It demonstrates the disruptive effect that the CSeries is having, by enabling smaller aircraft to fly longer distance routes that may not otherwise have been viable, and to less accessible airports.
The statement is just vague enough that I'm not sure exactly what is happening. I think SWISS bringing the CSeries to New York is confirmed by the release, though this is the first I've heard of such plans. And while the context suggests that the route will be from London City Airport that's not 100% certain. It is likely, however, as the max range of 3,300 nautical miles means flights from Switzerland to the United States aren't happening.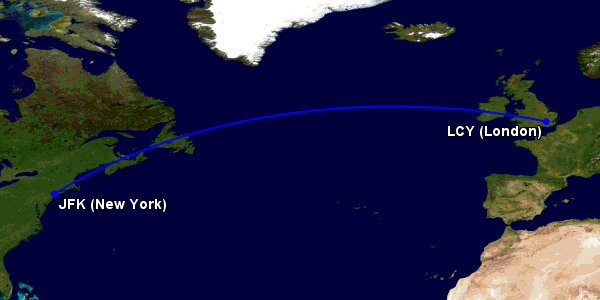 A competitive operation on the LCY-JFK route would be all sorts of interesting. BA has owned that market since inception and does a pretty good job of protecting the premium yields on the route. That said, the recent cuts suggest that recent global economic trends are putting significant pressure on the operations. SWISS already operates several flights from LCY and the current regulatory situation allows for such flights. Brexit negotiations may change that, of course, but we won't know that until it happens.
Maybe it would just be a one off flight by Swiss but that doesn't make much sense at all. Something strange is happening here. Or at least seems to be.