Passengers will have more options to Europe in Summer 2018 on United Airlines. The carrier is adding routes and extending the seasonal schedule to carry more summer holiday travelers to Europe, citing high demand for new routes. The new service will connect Newark to Porto, Portugal and Reykjavik, Iceland, each a new dot for United. Edinburgh gets another route, adding a daily flight from Washington-Dulles to join the Chicago seasonal fligh previously announced. Zurich also grows, with a San Francisco service. United is also extending its previously announced summer seasonal service for several routes.
As we continue growing our global route network we are offering more choice and convenience to travel internationally, something our customers have told us they want. The new seasonal summer flights offer customers even more opportunities to plan summer travel to four of Europe's most beautiful cities. – Patrick Quayle, United's vice president of International Network
---
---
Iceland is on United's map for the first time with the new flights to Keflavik, operated on a 757-200. The carrier is competing with Icelandair and WOW on the route, though United is the only carrier offering a flat bed in the premium cabin. With a 5:40 block time eastbound that still might not be enough to sleep well during the flight, though the 10:30p departure time helps. Flights will operate from May 23 to October 4.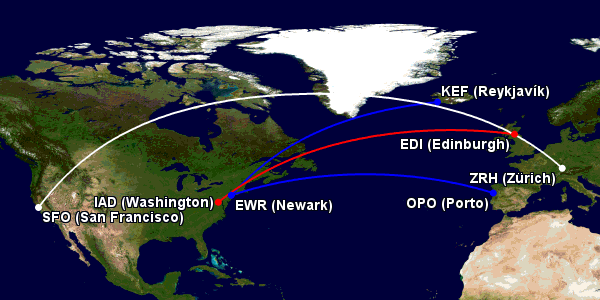 Porto is also a new destination for United and will also be served by a 757-200 from Newark. United also faces LCC-ish competition on this route in the form of TAP Air Portugal. TAP is also a Star Alliance partner, though not a joint venture member so the competition is real. Flights operate from May 4 to October 3.
---
---
Edinburgh gets another route for the summer, with Dulles joining the year-round Newark flights and previously announced Chicago summer flights. The new 757 service will fly from May 23 to October 3.
Finally, San Francisco adds Zurich service, augmenting the Swiss service for the summer season. Similar to the San Francisco-Munich service the Zurich flight will operate on a 787 and stagger times, allowing a second bank of connecting options in Europe for travelers headed beyond Zurich.
Other transatlantic summer seasonal routes get a boost as well. For 2018 the seasonal service between Chicago and Edinburgh and between San Francisco and Munich now begins 4 May 2018 and ends 26 October 2018. The service between Chicago and Dublin and between Washington/Dulles and Lisbon, Portugal will start 9 April 2018 and end 26 October 2018.
Growing across the Atlantic is a tricky proposition right now, with the long-haul LCC competition helping to drive demand and also depressing yields. Delta and American are also adjusting and growing, trying to pick the routes that can profitably fend off the LCCs. That's mostly good news for passengers as it tempers fares. The shift to more international transatlantic service also comes as United scales back in China and otherwise shuffles its route map. Working in more established markets is more likely to deliver results in the near term and the backing of the A++ joint venture partners also helps support the new routes.