The folks over at Half as Interesting posed a question online recently: What's the fastest RTW trip you can build using only commercial flights? Not surprisingly, I took the bait to try to beat their numbers.
Ignore the mediocre explanation of jet stream and the longing for Concorde to get to the meat of the challenge: Start and finish at the same airport (no co-terminals) and travel at least 22,750 miles, the distance around the earth at the Tropics of Cancer/Capricorn. Why that distance? Because the FÉDÉRATION AÉRONAUTIQUE INTERNATIONALE says so.
---
---
The itinerary they chose is a pretty good one, taking advantage of the SIN-SFO routing to cover maximum distance in minimum time.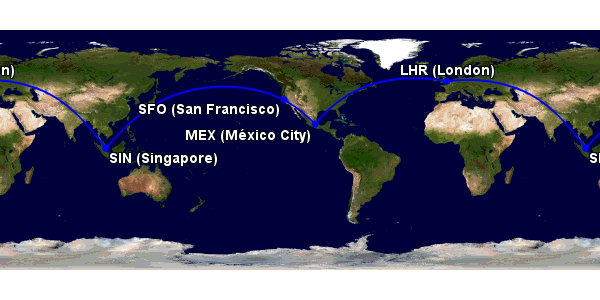 My complaint about that itinerary is that it includes an illegal connection in Mexico City between United Airlines and British Airways. The stop there is too short and there's no way a traveler would successfully get that done. But he sets the rules with a 60 minute connection time at any given airport so it works in that context. Still, I was pretty sure I could best it.
And so began my morning of toying with GCMap and flight schedules, trying to best the 50:45 time they set to beat. And I did. My final routing covers 22,755 miles in 49:55. Plus, I didn't have to resort to illegal connections along the way, though I do have one connection under 60 minutes. I'm sure that'll get me disqualified.
---
---
Keeping the SIN-SFO segment in there was important to cut down on connection time but, strangely, it also left me short on total travel distance in most cases.
One qualifying routing I came up with was just 22,870 miles, 120 more than the required minimum, but the travel time came in at 52:47, missing the mark by just over 2 hours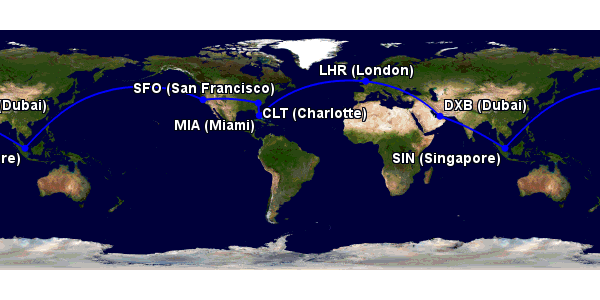 VS118    MIA-LHR    17:35    07:10+1
EK8    LHR-DXB    09:10    20:00
EK352    DXB-SIN    21:15    08:25+1
UA1    SIN-SFO    10:00    08:40
AA1954    SFO-CLT    11:15    19:16
AA1401    CLT-MIA    20:15    22:23
52:47    22,870
I was pretty sure that DXB-SIN-SFO was key to making it all work, with the main challenge of how to feed in to Dubai at the right time to catch the 9:15p departure to Singapore that makes it all come together. London was an option but getting the timing right on that one was tough with the morning departure from London. So I started looking for ways to skip it while still flying long enough to hit the 22,750 minimum.
A second routing came in at 22,932 miles in 51:03, also with all legal connections. Alas, that's just over the timing they asked for.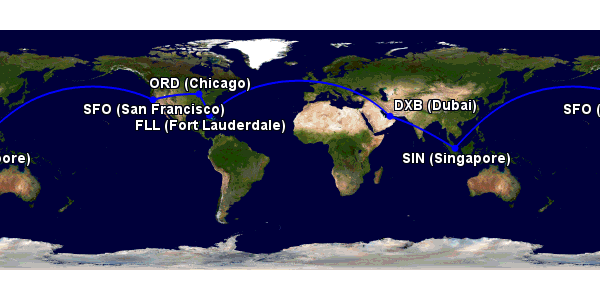 EK214    FLL-DXB    20:20     19:40
EK352    DXB-SIN    21:15    08:25+1
UA1    SIN-SFO    10:00+1    08:40+1
UA624    SFO-ORD    10:40+1    16:46+1
UA2072    ORD-FLL    19:10+1    23:23+1
51:03     22,932
Eventually I also found this routing, at 22,755 miles and 49:55 en route. It "wins" as far as I'm concerned, even with the connection in Atlanta dropping below 60 minutes as it is a legit routing sold by Spirit Airlines.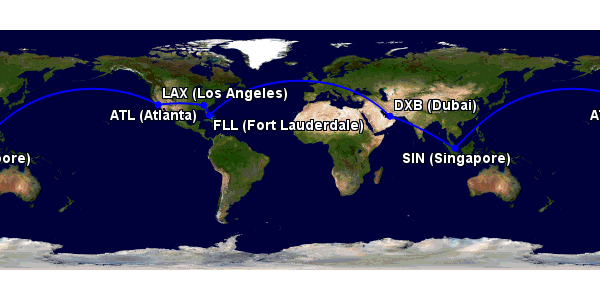 I will allow that on the date Half as Interesting did the search the SIN-LAX flight isn't yet operating, but it is next week so I'm using it for my results.
EK214    FLL-DXB    20:20     19:40
EK352    DXB-SIN    21:15    08:25+1
UA38    SIN-LAX    11:00    10:15
NK403    LAX-ATL-FLL    12:20 - 22:15
49:55    22,755
For the "purists" who want a RTW to also cross the equator the best couple I found (albeit not trying all that hard) are 24,037 miles in 59:20: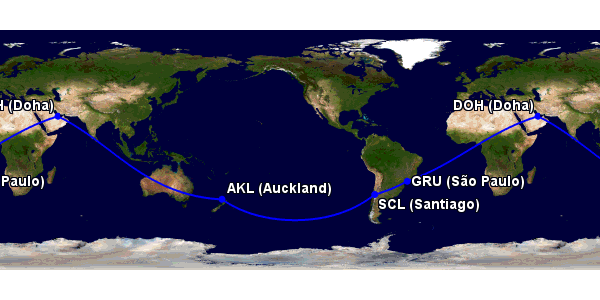 LA800    AKL-SCL    18:20    13:25
LA702    SCL-GRU    15:40    20:45
QR774    GRU-DOH 03:25+1    23:55+1
QR920    DOH-AKL    02:25+2    05:00+3
Or 24,706 miles in 56:40: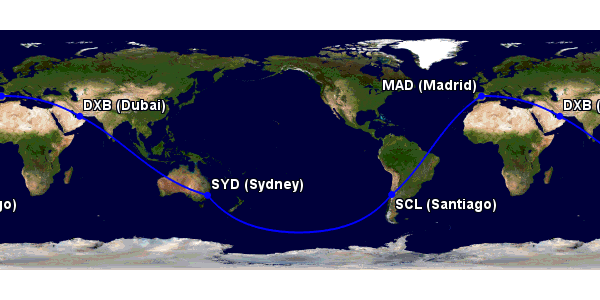 QF27 SYD-SCL 12:50    11:10
LA704 SCL-MAD    19:55    12:50+1
EK142 MAD-DXB    14:25+1    00:25+2
EK 414 DXB-SYD    01:55+2    20:30+2
Got anything better than that??