If 2018 is the year of connections for French LCC XL Airways then 2019 is set to be the year of expansion. During a recent press conference company CEO Laurent Magnin spoke to the airline's future and a much broader route map to come, as well as new aircraft fill in the gaps.
Smaller planes, more cities
The draw of New York City remains strong among French tourists inbound to the United States and Magnin is ready to carry more of them and not only from Paris. He also believes that more Americans are now making repeat trips to France rather than a first visit so they're ready to explore more cities along the way.
The next point for us is to increase the fleet and to open flights between different cities in France and New York. We need more [and smaller] planes to open these routes… Many people in New York in the next 10-20 years will take a week's holiday in Toulouse, in Marseilles, in Nantes, in Lyon, not in Paris. They know Paris; they want to discover another part of France. Probably the Airbus 321 will be the choice for us on these routes.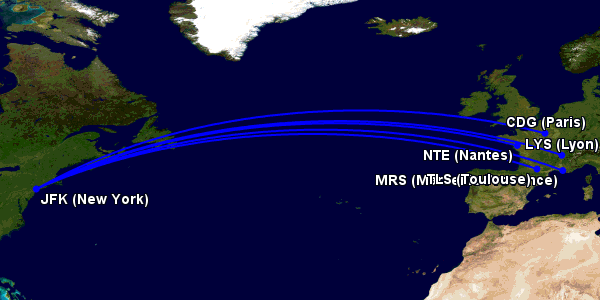 ---
---
Key to serving those cities is an aircraft that carries the right number of passengers at the right cost point. XL tried Marseilles service previously and saw reasonable demand but the A330, carrying double the number of passengers as an A321, was simply too large to fill according to Magnin. He believes the extended range of the newer planes solves that problem, "The 200 seat planes are fantastic to start new routes. We need more frequencies but not with the big planes on these sort of cities."
Against what odds?
Growing in to a LCC battle across the Atlantic Ocean is a terribly risky proposition and competition is getting harder. On the one hand, the smaller planes are easier to fill. And XL Airways certainly has a lower cost structure than legacy carriers, giving it an opportunity to win over some customers with nonstop flights and cheaper fares. At the same time, however, the carrier is not alone in pursuing such markets. Norwegian is the main foe, with more than 50 Transatlantic routes already announced. Norwegian flies a mix of 787s and 737 MAX aircraft and offers both nonstop and connecting flight options. XL only recently announced its first connecting flight option, set to launch in 2018.
Hubs are expensive, but they also help fill planes. Magnin's key to success is finding routes that will fill the planes on their own, avoiding the hub penalty while realizing maximum profit from each aircraft and route. The prior Marseilles service was a victim of such.
---
---
Icelandair and WOW are building up Iceland's Keflavik Airport as a massive connecting hub, keeping prices down but also adding time to trips. Magnin is a strong believer in the value of passenger time and matching prices against connecting traffic to attract travelers. He also is more focused on providing inflight service than a "naked" LCC product. A meal and checked bag are included in even the lowest XL fare which helps attract customers.
Other newcomers are also trying their hand at single-aisle aircraft for shorter Transatlantic routes. Primera wants to extend its European leisure network across the Pond with a handful of new A321neo aircraft it expects to fly in Summer 2018. And, while it is a LCC at heart, Primera does – in theory – offer a premium seating option. The actual cabin layout is unclear and the promo photos are stock images from various vendors.
On the plus side, XL has an operating advantage with growing an A321LR fleet. The parent company also owns La Compagnie which announced an order for the type just a couple weeks ago. Combining some of the maintenance operations and even potentially flight crews could help keep costs under control as the new routes grow.
Read More:
Header image: AIRBUS A 330, XL AIRWAYS ICI A SAINT DENIS SUR ILE DE LA REUNION. © Photo Alain ERNOULT-ERNOULT.COM/XL Airways