With a one-way ticket to Tokyo for the Delta A350 inaugural the options for further exploration were open-ended. Other than the part where I only had a couple days available thanks to other trips booked, of course. And so it was that I settled in on an idea: Exploring the various Japanese LCCs to see what the product is like and to hunt for variation within the operations.
The good news is that plenty of LCCs operate within Japan, giving me access to a variety of routes and flight times. The bad news is that the route networks are mostly unique. Unless I wanted to bounce back and forth between the same few airports my options were somewhat limited. Combine that with trying to keep costs down and make it out of the country 48 hours after I landed and I had an interesting set of challenges.
---
---
Japan is perhaps more famous for its train infrastructure – the Shinkansen system is incredible – than for its planes. But air is still critical for the country. The highest frequency of domestic twin-aisle aircraft fly over Japan, with multiple airlines offering hourly frequencies on some trunk routes. Historically that was ANA and JAL, with little left for the others. In the past decade or so the market shifted. Some of the names are familiar to those who know Asia's LCC market. JetStar has a Japanese operation with domestic flights. And Air Asia is back in Japan again (service started the week I was there) after an earlier effort that resulted in the launch of Vanilla Air.
Indeed, it is the re-launch of Air Asia Japan that triggered the idea for me. Not that I expected much new or different but when on a trip involving an inaugural getting another airline in its first week of flying seemed like a good idea. The limited routes and flights of Air Asia Japan also forced much of the rest of the itinerary.
Some other Japanese LCCs are less well known, even to someone like me who pays attention to such things. I was familiar with Vanilla Air and Peach Airlines and SkyMark; the three are now owned all or in part by the ANA group. Then there were others like StarFlyer and Fuji Dream Airlines (I only learned of this one after arriving) and more. I realized I wouldn't be able to fly them all, unfortunately, but I'd do my best.
---
---
Ultimately I built a plan (thanks to spending a lot of time on SkyScanner) that met all the goals. especially the budget. I would fly on five different airlines and routes in a 42 hour span. As an added bonus I'd get to try out a pair of hotel brands I've heard good things about. And I even managed an 8ish hour layover to actually see a city during the trip.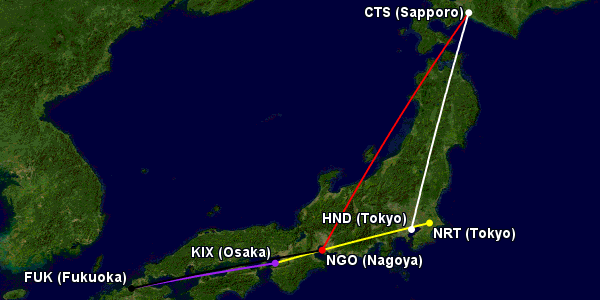 Here's how it played out:
Vanilla Air – Narita (NRT) to Kansai (KIX) – 31 OCT
Overnight in the First Cabin Hotel @ Kansai International Airport
Peach Airlines – Kansai (KIX) to Fukuoka (FUK) – 1 NOV
Exploring Fukuoka
StarFlyer – Fukuoka (FUK) to Nagoya (NGO) – 1 NOV
Overnight at the Toyoko Inn @ Nagoya International Airport
Air Asia Japan – Nagoya (NGO) to Hokkaido (CTS) – 2 NOV
Japan Air Lines – Hokkaido (CTS) to Haneda (HND) – 2 NOV
Yeah, I put JAL in there at the end even though it is not an LCC. SkyMark had similar flight times and could've worked but it was $100+ more expensive than the JAL option. And I'm only willing to spend so much when it comes to these ridiculous chases. Besides, that turned out to be a good thing in the end.
Oh, and I did the entire trip (including to/from NYC) with only 7kg of stuff thanks to the LCC baggage limits (Air Asia Japan was the limiting factor here; the others are 10kg).
More from my Japanese LCC Adventure