Limited schedules, poor connections and high fares are the typical experience for air travelers in the Caribbean. Protectionism from governments and poor operating economics for small flag carriers hinder integrated operations. For three of the larger airlines in the region, however, the market is evolving. Air Antilles, Winair and LIAT joined forces this week to form the Caribsky alliance with an eye towards integrated schedules, fares and ticketing across the full combined networks.
---
---
Winair and Air Antilles mostly serve the French and Dutch Caribbean while LIAT covers more of the English-speaking parts of the region. Traffic demand typically is focused within those segments rather than crossing them, but that is changing as more people migrate among the islands and as interisland business grows. The combined operation will operate from hubs at Saint Maarten (SXM), Antigua (ANU), Barbados (BGI) Point-a-Pietre (PTP) and Trinidad (POS).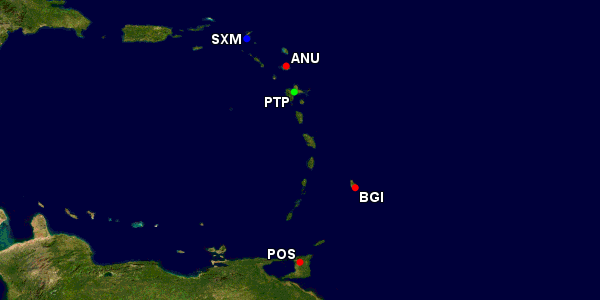 Developing the partnership was many years in the making. The logistics around integrating the operations of smaller airlines together are not to be underestimated and the past year certainly added to the challenges. Storms in the region dramatically depressed inbound tourism loads, particularly around Winair's hub at St Maarten. Recovery is ongoing, albeit slowly. By tying together the airlines can boost passenger flows and increase traffic within the region, offsetting the loss of the inbound traffic.
---
---
One of the challenges expressed by the Caribbean regional airlines is limits on route authorities. The countries are small and can negotiate some bilateral treaties but expanding beyond that proves difficult. Governments generally protect their incumbent airline with limits on competition, even where the larger carrier could reduce costs and increase value for passengers and the local economy. The national carrier is a source of pride, but not always a financially sound operation. Deals like this one avoid those challenges by leveraging the existing route authorities and moving passengers seamlessly across the operating carriers.
Funding for the cooperative effort – with a price tag of 4.6 million euro – is split between the European Regional Development Fund, the European Development Fund, member airlines and the tourism board Discover Dominica.
The 2018 Caribavia Aviation Conference, to be held in Nassau, Bahamas on 12-14 June, is a great place to learn more about the cooperative efforts growing the Caribbean aviation market, including partnerships such as this one. I will be chairing a couple of the sessions at the event. If you're involved in Aviation in the Caribbean this is a must-do event.