JetBlue intended to serve Mexico City from its hub at Long Beach. That was the plan back when the Delta/Aeromexico joint venture was approved and the US Department of Transportation required divestiture of landing slots in Mexico City and JFK as a condition of approval. The Long Beach government had other plans, however, rejecting the construction of immigration and customs facilities at the airport and leaving JetBlue in a bind. This week the airline announced a new plan: Rather than fight in the heavily contested Los Angeles – Mexico City market (14 daily flights across 7 airlines) the slots will be used to operate flights from Boston and New York City.
The company hopes to launch service in October 2018 but must still overcome two challenges on that front. First, the DoT must approve the shift from Los Angeles to the East coast. The necessary paperwork for such is filed and no objections are expected, though the DoT requires a two week wait for the slot shift to become official. The other – and far more significant – challenge comes in obtaining useful slots at Mexico City's international airport. JetBlue's application for such was only belatedly fulfilled after the carrier complained to the DoT that Mexican authorities were dragging their feet. On the plus side, that delay means the carrier can keep the slots without operating from LAX this summer. And the eventually granted times – evening arrivals and redeye returns – are far better suited to east coast traffic and JetBlue's typical new market growth plan, though pretty horrible for Long Beach service.
---
---
United moves on Mexico, too
JetBlue is not the only carrier changing up Mexico City service later this year. United Airlines is also bailing on the city pair as part of a reduction in service to Mexico. United will also shift its MEX slot to the east coast, adding an additional Newark frequency. The NYC-Mexico City market is nearly as competitive as the Los Angeles market (12 daily flights, 5 carriers) so the move is not necessarily about avoiding a fight but also about hub dynamics and passenger flow. JetBlue delivers significantly lower passenger loyalty and name recognition on the west coast than on the east coast. United similarly is better suited to drive passenger volume (and higher fares) from Newark than LAX.
Good day. @united has made some changes to its Mexico flying, according to internal comms. Los Angeles-Mexico City — a competitive market — is kaput. Also: pic.twitter.com/UjJ9Kcz3S6

— Brian Sumers (@BrianSumers) May 9, 2018
The other United changes appear to reflect an overall shift in the market between the US and Mexico. United's service to Leon/Guanajuato (BJX) will no longer operate from Los Angeles but a now daily frequency will be added at Chicago-O'Hare. San Luis Potosi also grows, up-gauging from a 50-seat ERJ to a 76-seat model. And Queretaro (QRO) increases to 4x daily service in December. But there are also several cuts coming. Saturday-only service from Denver to Mexico City is dropped. Huatulco (HUX), Mazatlan (MZT) and Villahermosa (VSA) are losing service completely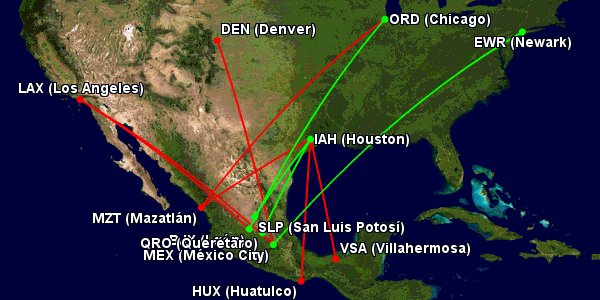 Looking at the map of shifting service it appears that United is pushing more heavily into business markets and away from leisure service. Given recent shifts in traveler behavior and political overtones that move probably makes a lot of sense. And maybe flying from Houston to every dirt strip south of the border is not a viable business model these days, after all.
---
---