WestJet intends to fly its first Boeing 787-9 Dreamliner aircraft to Europe when they enter service in 2019. The aircraft will connect the carrier's Calgary hub with London-Gatwick (28 April), Paris (17 May) and Dublin (1 June). These destinations represent existing routes in the WestJet network rather than expansion into Asia or other destinations further afield. The London route sees the 787 replace existing 767-300 service. Paris and Dublin are new routes for the carrier but not new destinations.
"Alberta's connectivity to the rest of the world is vital for our economy. WestJet is investing in Alberta to bring further economic growth, boost tourism to the province, and to further position our city as an international aviation hub. We are excited to bring Albertans to the world and the world to Alberta." – Ed Sims, WestJet President and CEO
---
---
To help feed traffic on the flights WestJet optimized connections across the carrier's western Canadian and US destinations through the hub at Calgary. These flight timings will play a significant role in delivering a more efficient routing for travelers. Much in the same way that Finnair leverages the northern positioning of its Helsinki hub, WestJet aims to reduce total travel time for long-haul connecting passengers.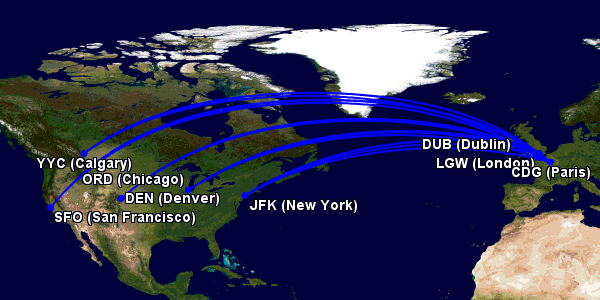 Calgary is closer to the Western Europe destinations than Denver, for example. And for many travelers the flight to/from either hub will be similar in duration. Optimizing the transit process at a smaller airport will further help smooth the experience for passengers. Still, there are other connecting points for passengers headed to Europe that are better established and shorter total travel distances, though not necessarily more convenient.
---
---
What about Asia?
Could Asia still be in the cards for WestJet's Dreamliner expansion? It almost certainly has to be, though starting in Europe with existing destinations eases the process. Calgary sits well positioned for such connections if the carrier wants to keep the fleet centralized for operational efficiency. Vancouver presents another opportunity. It offers the shortest Transpacific flight distances and a large local population to help drive demand. Hub location and routes for the remaining seven aircraft have not yet been announced.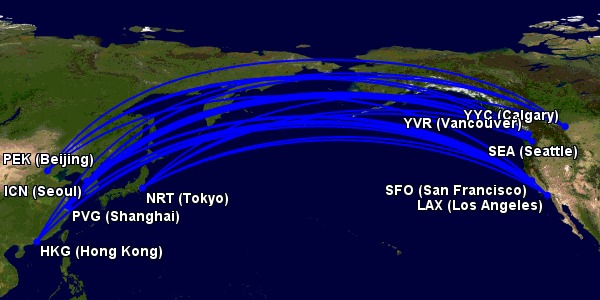 Choosing a limited and European growth path initially should also help WestJet avoid a significant fare war with Air Canada. On the Pacific side, and especially if Vancouver becomes the hub, that will be a much more difficult proposition.