With their landmark Northeast Alliance (NEA) approved, JetBlue and American Airlines are pushing quickly towards implementation of coordinated operations in the New York City and Boston markets. In earnings calls last week both companies spoke to the potential opportunities the relationship brings.
While the pandemic has been extremely challenging, it has also created once-in-a-generation opportunities. This alliance is one of them. As always, we will be smart about where and when we grow, and we won't grow just to grow – we'll add routes that earn their way into our network and help us return to profitability. – JetBlue Head of Revenue & Planning Scott Laurence
---
---
Shifting to larger planes
For American one key development is removing its 50-seat jets from the New York market. AA president Robert Isom noted in his company's earnings call that "every time we move one of those 50-seaters out, we're bringing in a two-class product, with a first-class section that has Wi-Fi and in-seat power." It should be a more comfortable and compelling offering for passengers, but the promise of two-class service may not be the full story.
---
---
A major slot shift in play
At LaGuardia, for example, JetBlue expects to potentially triple its operations from 18 peak daily flights in 2019 into 50-60 range over "the next few years" with the NEA online. That only happens as it borrows slots from American. So while the replacement aircraft will be larger, and include free wifi on board, there might not be power or the first class cabin on offer.
JetBlue Head of Revenue & Planning Scott Laurence suggested that the coastal Southeast might be ripe for disruption, with a number of markets "right now that are served by a monopolist." Reviewing filed schedules suggests a handful of destinations in the region where Delta Air Lines is the sole or dominant carrier.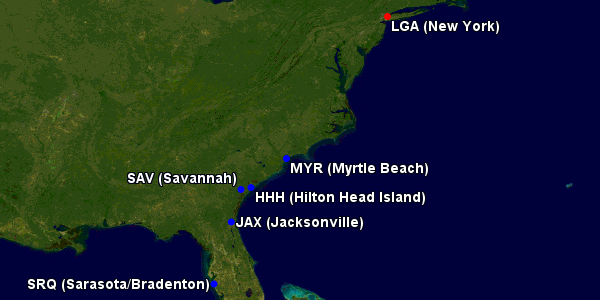 Laurence also suggested that the NEA would allow the pair to "work together to have additional relevance in some of the more business-oriented markets in the Midwest, for example, that we have not been able to break into historically." While he did not name specific cities in the earnings call an internal memo to crewmembers suggests that San Antonio, Kansas City, St. Louis, and Milwaukee are among the markets on the shortlist for the next few years.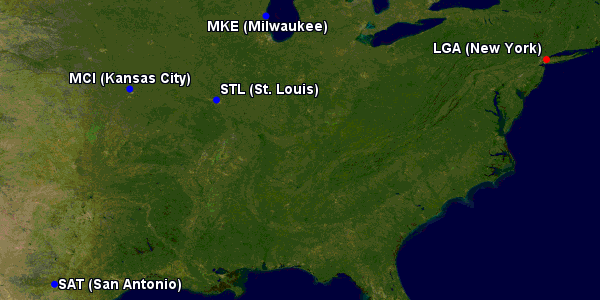 Newark is expected to grow towards the 70-80 daily flights range as JetBlue adds frequencies and destinations, taking advantage of American's corporate contracts and customer base. JFK and Boston expect similar growth.
More transcons at JFK, building out the Mint offering, could be sold to more corporate customers. And if the loyalty program reciprocity truly is reciprocal some travelers might start to book away from AA's product towards Mint, especially as the new Mint aircraft enter service in June.
Leaving the United States (and with the growing fleet of A321neo aircraft) there are many more markets that become appealing and profitable to serve. Whether it is finally launching service to Canada with flights from Vancouver or expanding further into Central and South America with destinations like Cali, Colombia and Panama City, Panama, JetBlue is looking to fill out its route network with help from American's sales team.
In total the carrier expects a dozen or more new cities could be added to the route map as a direct result of the new partnership.
American already announced its new JFK routes to Tel Aviv and Athens, building on the feed expected from the new JetBlue flights at JFK. But given the zero-sum game of slots it is clear that AA will have to trim services in these markets to make the numbers work.
Timing of the implementation
Much of this could still be years away. Laurence references 2023 as a target for business travel recovery. But other bits will begin much sooner.
Both sides agree that the first step towards implementation is a quick and aggressive move on code-sharing where permitted. That should start to show up in the next month or two as both Raja and Laurence anticipate having that live in Q1.
From there the frequent flier reciprocity comes into play. Given the very different program benefits, particularly around day-of-travel experience, this one will be interesting to watch unfold.
And from there the other route planning starts to take off.
Objections raised, but will they be heard?
Not everyone is happy with the NEA moving forward. Competitors objected to the paltry divestiture of slots and are demanding an open public review of the agreement.
Last week Spirit Airlines filed a complaint to the DOT regarding the JetBlue/American partnership in NYC/Boston. Today Southwest joined in, supporting Spirit's claim & demanding divestiture of slots acquired through divestment actions. $JBLU $AAL $LUV $SAVE #AvGeek #PaxEx pic.twitter.com/Gs0h1pRz6y

— Seth Miller (@WandrMe) January 11, 2021
Passenger advocacy group Travelers United went even further, suggesting that roughly 16 slots at each of the airports was a more reasonable level to divest rather than the 13 total required.
Consumer group Travelers United is demanding 16 slot pairs at *each* of LGA/DCA/JFK be divested to allow the B6/AA deal to move forward. https://t.co/z3gUysZjL1 pic.twitter.com/sy8CtYszxU

— Seth Miller (@WandrMe) January 25, 2021
It is unclear how the Department of Transportation will react to these appeals. Thus far the agency has remained quiet. And the airlines keep noting that the review was completed in line with the requirements at the time. No doubt that, just like Boeing, the pair are happy the paperwork was signed prior to January 20th.