Sam Adams was shunned from the skies due to their unwillingness to put their beer in a can. Airlines are cutting costs (bottles are heavier and more fragile than cans) and that meant fewer are willing to carry bottles in their galley carts. Sam Adams changed course a couple months ago, developing a new can for their beers and now they're taking to the skies again. You'll soon find the "Sam Can" on board JetBlue flights.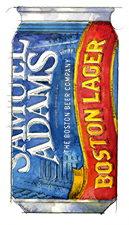 Samuel Adams founder and Chairman Jim Koch says he flies ~200 flights annually and that he's accrued "millions and millions of miles on airlines." In an interview with CNBC he also notes that there is more to the in-flight experience than just getting where you're going:
They all get you from point A to point B safely and efficiently. It's just nice to get there safely and efficiently with a good beer in your hand.
I have to agree. Over the years I've had Sam Adams on the Delta Shuttle and on JetBlue (most recently last April). I'm looking forward to seeing it on board again.