I'm writing this post while sitting on Amtrak's Surfliner train, headed south along the California coast towards San Diego. And, while that was always my intention of where I should be right now, it almost did not come to pass. The weather on the east coast was a mess and we almost didn't make it. Ultimately, however, the storm was mostly a non-event for us. So, how did I make it work? Being proactive and flexible were the two main factors, with a few other bits thrown in.
We originally were booked on a Delta flight JFK-LAX for Thursday morning. As the weather forecasts started to firm up and that seemed less and less likely to fly I started to look at alternatives. With the weather across the Southeast on Wednesday options for rebookings were slim to begin with; that's where flexibility came in to play. In our case part of that came from being willing to fly in coach even though we were booked on business class tickets. Yes, I'd prefer the big comfy seat but I prefer actually getting there more. And there weren't many business class seats left out of NYC as everyone started to adjust their plans.
Even worse is that the options I could see were rapidly disappearing and I couldn't get the Delta website to sell me the ones I could find online. That mostly seems to based on the connections not being "natural" per what the Delta website would search for or having mixed cabin service but it was still quite frustrating. I called in to reservations and was put in the call-back queue with an expected hold time of "more than 4 hours." Things were looking quite bleak, indeed.
Normally my next play is to Twitter; I find that the airlines can make changes for me pretty reasonably in such scenarios. Alas, the @DeltaAssist account was nonresponsive to me. Much like the call center I'm assuming they were overwhelmed with volume. Fortunately for me, however, one of my Twitter followers reminded me that there are other ways to get in touch with Delta, namely through their international call centers. Duh. Of course.
@WanderngAramean @DeltaAssist Call one of DL's int'l call centers.

— Jimmy (@Jimgotkp) February 12, 2014
So I paid a little bit in Skype credits (2.3 cents per minute) but I got through to an agent in less than 2 minutes and the Singapore call center is open 24×7 and English is spoken. I started by suggesting some of the alternate routings I'd previously researched. Alas, most were now booked. There were a couple choices with 6-8am departures (not at all desirable considering it was 9pm when I got through and we hadn't packed yet). I noted to the agent that we were ultimately going to San Diego to expand the search options but that didn't yield much in the way of availability. And then she suggested that she'd check some other carriers to see if they had space. There were connections via Charlotte and Dulles showing but I knew those were likely to be closed (and they ultimately were). She found one via Nashville. That was a bit of a risk as it was on the edge of the expected weather, but it was all that we had. I decided to chance it. We were booked on to American Airlines with a coach segment LaGuardia-Nashville and first class for Nashville-Los Angeles.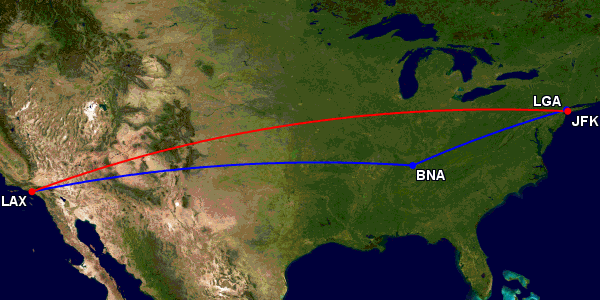 It took about 20 minutes on the phone to get the new flights squared away. At that point the agent suggested that I hang up while she finished the re-issue process and she'd call me back. Another 20 minutes passed and my phone rang again. The tickets were reissued, the new confirmations were in my email and we were set to go.
I kept an eye on the weather and flights most of Wednesday morning. Tracking the inbound aircraft for both segments was key. The BNA-LAX plane was coming from LAX. So long as Nashville stayed out of the major storm area that would be fine. An ERJ out of LGA is rarely a sure thing but our plane started in Columbus, OH before making a quick turn to Montreal. No weather to worry about in either of those areas. And LaGuardia was running pretty smoothly (such as it ever does). We were missing a flight attendant as the boarding time came and went but she showed up rather shortly thereafter and we were soon on our way.
The flights themselves were quite uneventful. It was my first time in AA domestic F and, while a bit different from what I'm used to, quite pleasant. We made it to LAX just a few minutes late (we had to de-ice at BNA which slowed us down by ~10 minutes) and picked up a room for the night as a "distressed passenger" despite the fact that I was actually quite relieved to be on the west coast.
As for the original Delta flight, it actually did make the trip, but a bit late thanks to the weather.
It was a rolling delay and ultimately only 1:20 late into LAX. That's not too bad but it likely would have blown up our day. We were supposed to be on the 3pm Surfliner southbound and making it from LAX to Union Station in that window would've been very, very challenging. The stress-free (or at least much reduced) version of the trip we ultimately took was quite a reasonable alternative.
In addition to leaning on Delta to try to get us out early I also checked with United to see what my options were. With free award changes/refunds (still my favorite benefit of top tier elite status) I found low-level inventory on EWR-PIT-LAX for Wednesday evening as well. I ultimately canceled that reservation after we boarded for LGA-BNA and the EWR-PIT was sufficiently delayed that we would have missed the connection in Pittsburgh and likely been stranded there. Good thing I didn't need that backup option. But it was nice to have something (at least in theory) just in case.