With an impending work trip to Hamburg, Germany on the horizon it was finally time to book my flights. There is a non-stop option from Newark to Hamburg on United (I've flown it once before) which would probably be reasonable, but I've also built in a day of time on arrival to deal with jetlag and get settled and not be too dead for a week of meetings. And that also gives me a bit of flexibility in booking the flights. The non-stop option, in addition to being somewhere between a bit and stupidly expensive (the price has varied from $2000-2900 over the past week), only has middle seats available for the outbound flight (non-reclining in E+ or way in the back for E-). I just did that last week and I'd rather not repeat the experience if I don't have to.
Plus the business class cabin is already down to 3 seats for sale which doesn't bode well for a GPU clearing.
So, given the numbers working against me on the non-stop option I started to explore alternatives. My initial searches were mostly Newark-Europe and then onward to Hamburg there. Zurich seemed to have decent potential, offering up a longer TATL flight for sleeping and a few more miles with the connection, but it also included a four hour layover in Zurich. That's a bit more time than I'd like to spend in the airport and not enough for me to want to leave and head into town. Milan had an even longer connection option which, given the location of Malpensa, was still a crappy option for getting into town. Plus I don't really love Milan as a day-trip destination. It was time to get away from the United site and start using ITA to force more creative routings (I did also look at other carriers but none were particularly compelling for price or schedule so sticking with United/Star Alliance made sense in this case).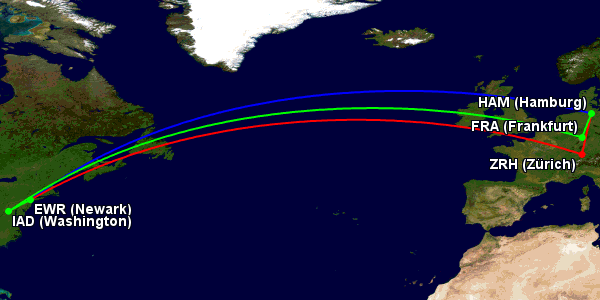 My desire for more sleep means I wanted a longer TATL flight. And a later one if possible. Departures between 5-7pm are great for the airline to get planes to Europe and back but not so great for me sleeping on board. Chicago had a few options but the fares didn't price so well. Time to give Dulles a try. There are not as many European destinations available from Dulles as from Newark but there are a couple late night flights. The 9:50pm departure to Frankfurt is darn near perfect in terms of combining flight time, departure time and onward connection options, at least within Europe. And more miles connecting down from NYC.
As an added bonus, there are lots of flights between NYC and Dulles which means I can have a bit of fun with my day on the outbound. And I've got family and friends in the DC area (plus there's always the Udvar-Hazy Center if everything else falls through; I really like it there). So booking a 10 hour connection was easy enough and offers lots of potential.
Yes, my total travel time is just over 24 hours rather than just under 8 hours. But I'm still pretty sure it is the smart move given my circumstances.
For the return the non-stop was not all that much more expensive (turns out the outbound flight was the fare-limiting factor on that one) so I could have done that quite reasonably. But I've been interested in trying out Lufthansa's germanwings operation and the forward cabin is completely sold out on the non-stop, making my upgrade VERY unlikely. And I've never been to Stuttgart.  So I've added a short extra hop there which should be fun and keep up my Dots, Lines and Destinations credibility a bit.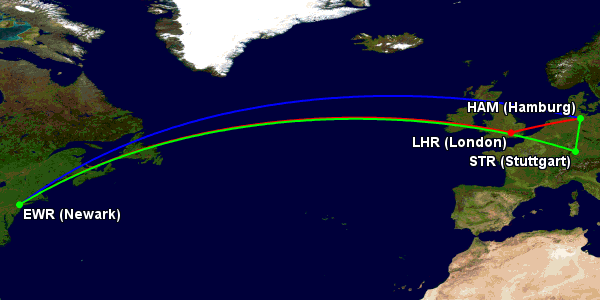 Save some cash for the client, see family & friends and get a couple new travel experiences. I'm calling that a win on pretty much every level.
Related Posts: