Daily seasonal service from Charlotte to four new European destinations was supposed to help boost traffic across the pond for American Airlines (still US Airways when the routes were announced) this summer. Instead the service is being trimmed before it even starts, reportedly due to weak bookings. And so, instead of daily service throughout the summer season two of the four destinations – Brussels & Lisbon – will only be served 4x weekly. The other two cities – Barcelona and Manchester – will keep daily service but the flights will end a month earlier than previously planned.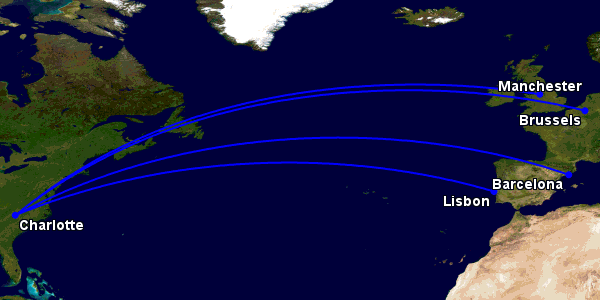 These cuts come on the heels of the previously announced plans to drop Rio de Janeiro service from Charlotte in 2015.
Yes, there are still a few long-haul flights from the hub (Dublin, London, Frankfurt, Paris, Rome & Madrid) but not a ton. And with the US Airways half of the airline now participating in the transatlantic joint venture with American, British Airways, Iberia and Finnair it seems likely that there will be more "rationalization" of routes in the future. The joint ventures do great things for the airlines, so long as everyone participating plays with the same intentions, and capacity discipline is a major part of that these days.
That's not to say we should be closing the book on Charlotte as a hub quite yet. There's still some strong value in serving connections within the region for the near future. But for long-haul operations there is a lot of potential to bypass connections there via Philadelphia, Chicago, New York City or even Miami.
Things could get interesting in a hurry down in North Carolina.