Want to spend a really, really, really long time in an Embraer ERJ-145 regional jet? United Airlines might just have an excellent offer for you coming up later this year. The carrier appears to be introducing non-stop service between their hub in Houston and Williston, North Dakota. That's a 1330 mile trip which blocks at 3:38 on the timetable northbound and 3:36 southbound. And they'll be operating it on an E45.
By comparison, EWR-OKC is 1325 miles, a smidgen shorter than the new service, though the westbound version of that flight blocks in at 3:41 most days. And United has up-gaged the EWR-OKC route to an E70 some days, though many of the flights are still on a E45.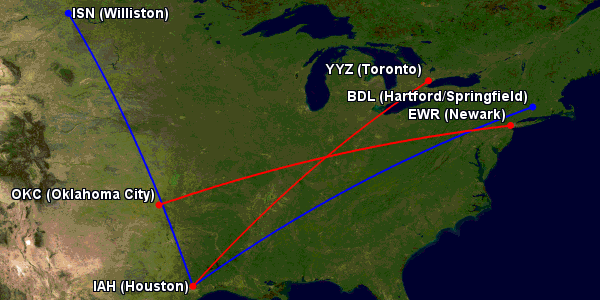 Also coming later this year is service between Houston and Bradley International Airport near Hartford, CT. That's going to launch on 13 October and operate with an Embraer ERJ-175, a much more comfortable ride than the E45 "little brother" flying the slightly shorter route to North Dakota.
With both of these routes added Houston will have non-stop service to more than 40 states. So they've that going for them. Which is nice.
h/t teh Otter for pointing out the possibility that this was happening.