It is no secret that Delta planned to retire their fleet of 747-400 aircraft as they came up for the next round of D-check heavy maintenance inspections. It is, however, slightly surprising that the carrier is accelerating the retirement party, pulling four of the planes out of service in just a few months' time.
The first two retirements come at the end of September as flights between Tokyo and Atlanta/Los Angeles switch from the 744 to 777 service. Four weeks later, at the end of October the Detroit-Nagoya route will convert to an Airbus A330 and Delta will discontinue service on two routes, Nagoya-Manila and Tokyo-Hong Kong.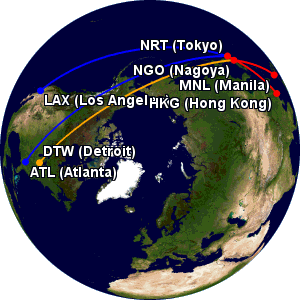 The cuts in the Pacific come can be attributed to softness in that market, with an otherwise strong 2Q2014 results including a 2% drop in yield and a 2.6% drop in revenue in the region. The company will cut some beach routes out of Tokyo to the tune of a 15% capacity reduction and a 10% overall intra-Asia capacity reduction which is pretty easy to see when two 744s are pulled from the NRT-HKG and NGO-MNL routes. The cuts also reflect the growth of Delta's trans-Pacific operations at Seattle, where new flights bypassing the Tokyo hub are operating, reducing the need to offer continuing service to move passengers through the region. It is worth noting that United Airlines killed their NRT-HKG service a year prior to Delta's move, though United has a joint venture agreement with ANA to provide revenue sharing for onward service on the latter's flights; Delta does not have such a partner in Asia.
Certainly it is sad in the nostalgic sense to see the retirement of the Queen of the Skies pick up pace; the 744 can be a great plane to fly on. Plus there's the part where these planes and the Japan connections are part of the Northwest Airlines legacy, bits which are slipping away more and more. And it is arguably a bit surprising to see Delta make this move given the recent investments in retrofitting the interiors of the aircraft. But, at the end of the day, it is a business and financial pressures on the Yen and reduced local traffic makes it hard to justify keeping the big birds in the sky.