Want a premium flight experience for pennies on the dollar? Any chance you're in Thailand right now or will be soon? Kan Air, a domestic operator in Thailand is offering up some ridiculously low fares for flights on their 6-seater Hawker Beechcraft Premier 1 jet, with one-way trips starting at 2900 baht (~$95 USD).
Here's a promotional video the airline produced for their services:
But if you want the luxury treatment you'll need to act quickly. The flights are only running a couple days each week on short hop domestic routes. Currently flying are Chiang Mai to Hua Hin and Ubon Ratchathani. The airline expects to add Bangkok Don Mueang to Mae Sot soon. Service on the private jet will not last long, however. It is operating as a stop-gap service to maintain route authorities pending delivery of ATR72-500 aircraft which are expected in mid-September.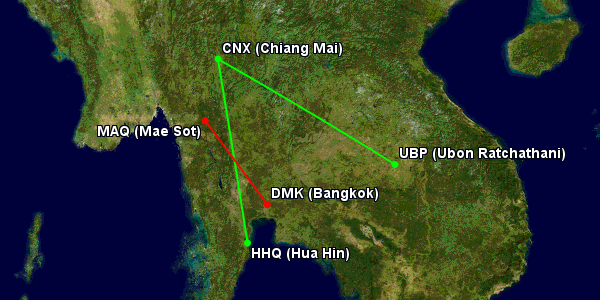 So, yeah, not likely to be too useful to most folks, but on the off chance you're in the area this could be a great deal for a bit of fun. And odds are Nicholas Cage won't be on board so that should make things a bit more reliable, I presume.
More details on the service: