Southwest Airlines is adding more routes from its home base at Dallas's Love Field (DAL), and the move is a bit of a defensive one. The carrier will begin serving San Francisco (SFO) and Oakland (OAK) from DAL starting in early January 2015. The routes will begin operation a few weeks after Virgin America sets up shop at Love Field, and the SFO-DAL route is big in its plans as well.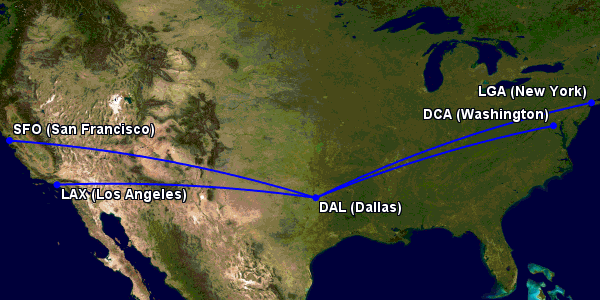 And while Southwest has the advantage of serving two airports in the region, it is only offering two non-stop flights daily while Virgin America is offering three from SFO. This is not the aggressive Southwest Airlines of yore; the move is measured and appears to be very much a "me, too" option rather than an all-out defense of their home turf.
There are three other markets where Southwest Airlines and Virgin America will compete head-to-head by the time January 2015 rolls around and in those markets Southwest is a bit more aggressive. In the Los Angeles market, for example, Southwest has four flights into LAX most days compared to Virgin America's three. And Southwest has an additional frequency into Orange County every day as well.
In the Washington, DC market National (DCA) gets a lot of love. Southwest has six daily flights on the schedule compared to Virgin America's three. Southwest also has a hub up at BWI and will connect it to Love field with an additional three daily flights.
And, finally, the competition at LaGuardia. This is the only one of the four head-to-head markets where Southwest does not have an alternate airport on offer. Each carrier will generally have five flights operating daily.
So, Virgin America will have competition in each of the markets it serves from Love Field, but the competition is not of the "kill at all costs" variety. Is that because Southwest Airlines realizes someone is going to be at those gates no matter what and prefers Virgin America as the foe to the other options? Or that the resources are not available to stage such an all-out assault? Probably some combination of both. Either way, Virgin America will definitely see some challenges as they work to establish their operations at Love Field, but it could have been much, much worse.