Delta Air Lines is wasting little time in leveraging its investment in Virgin Atlantic to serve the combined carriers' trans-Atlantic market strategy. Following on a relatively quick approval for codesharing and joint venture operations the two are now adjusting routes served and the shift is heavily towards the Atlantic Ocean. As reported by airlineroute.net Virgin Atlantic's service to Vancouver, Tokyo, Mumbai and Capetown will all be cut starting early in 2015 while new operations will be launched, mostly serving Delta hubs or otherwise augmenting the TATL route network.
When the changes are complete Virgin Atlantic will have only 6 destinations east of London.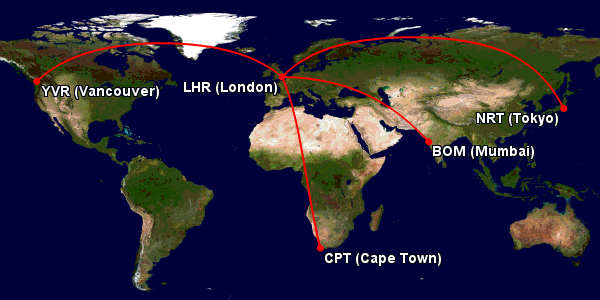 The new routes being added include a collection of Delta hubs – ATL, DTW, JFK, LAX – and also a few other cities with seasonal leisure demand like SFO and MIA. One of the two daily EWR flights will shift from Virgin Atlantic to Delta metal and Virgin Atlantic will take over operations on Manchester-Atlanta, replacing the Delta flight on that route.
Operating as solely a long-haul carrier is very, very, very challenging. Even with a home base at London's Heathrow airport and their minimal short-haul feeder flights on Little Red the reality is that Virgin Atlantic cannot survive without feed to help fill those long-haul planes. Adding that feed from the east is not particularly viable so instead it will come from the west as Delta can push passengers into the Virgin Atlantic planes at nearly all of the new US points. And with the joint venture in place for those routes the two will be able to coordinate fares and scheduling, allowing for theoretically better yields.
This move does increase the significance of London as a destination for the combined pair, but on average it is still just a handful of new daily flights (4 year-round; 3.7 additional seasonal) so it doesn't completely skew the capacity curve. And there's the part where Delta and Virgin Atlantic still have different service levels and styles on board. Adding the dual service options to Delta hubs gives passengers more choices not only on flight times/frequencies but also in the type of passenger experience they have across the pond. And more choices generally is a good thing for travelers.
The shift also allows the combined carriers to adjust capacity in certain markets as they alter which aircraft are serving the routes. The Newark adjustment is a great example. Delta could swap in a 767-300 for Virgin Atlantic's A340-300, trimming capacity if desired. Similar shifts, including adding a proper premium economy cabin in some markets, can also take place, by putting Virgin Atlantic aircraft into those markets.
And, in the mean time, Delta can continue to grow its feed into London with the "Delta Atlantic" operation, proudly operated by Virgin Atlantic. It almost seems like they may as well change the name now the way the capacity is shifting.