Spirit Airlines is taking a go at United Airlines, launching seven new international routes in May 2015 at Houston's Intercontinental airport. Three additional domestic routes will also be added (one seasonal) making for ten new destinations served at IAH and a total of 22 cities served once all the flights are operating. The international markets are ones where United currently is the only carrier flying; the new competition offers the potential for lower fares.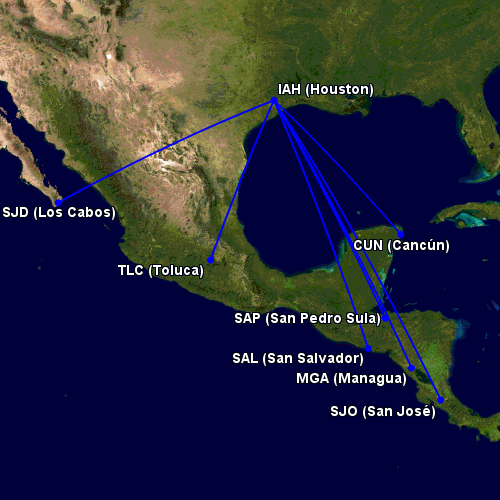 With less than daily service in most of the international markets (only Cancun gets daily) it is not clear just how much of the service is set up for connecting passengers versus travelers originating in the Houston area. Still, with potential connections to/from Oakland, Las Vegas, Minneapolis, Kansas City, Chicago, Denver and San Diego the potential to erode some of United's passenger flow is very real (there are other connecting cities, too, but those work reasonably well over Ft. Lauderdale, Spirit's main LatAm hub). And remember that last time there was a whiff of international competition in Houston United pulled back, citing the potential for future decreases in traffic flow as the reason. Even while cutting a couple routes, however, United did choose to add service between Houston and Santiago, Chile which suggests that the company is not yet ready to throw in the towel on its Houston hub.
Most interesting to me will be watching how fares play out in these markets. United commands a bit of a premium in most and they are relatively short stage lengths which makes them rather profitable and efficient to operate (i.e. no need to leave a crew overnight at the foreign station). And, while fares and yields are down a bit recently in the LatAm segment for United capacity continues to grow, both from United and others looking to compete in the region. The capacity increase of Spirit entering the market is likely to further depress yields, a trend which leaves United and its higher cost structure more exposed than Spirit.
Related Posts: