The year started with a delay. Only about 2 hours, and I made my connection, though no time for lounge hopping. It was a somewhat ominous beginning. I needn't have worried. Everything turned out just fine for me in 2014.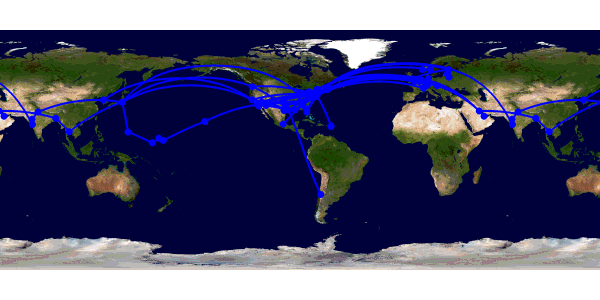 It was not my biggest year in total miles flown (199,195 between airports) nor number of segments (115). I visited 22 new airports and 57 of the 117 segments were on routes new to me, a pace which is becoming ever harder to maintain. Plus visits to 23 countries, seven of which were new to me. But all the numbers in the world don't really describe the awesome experiences I had. Even the bad parts were good in the end.
I was on the final commercial flight of the MD-11 and the DC-10, the last two widebody tri-holers still flying. I was also on the inaugural flight for United Airlines of its 787-9 and several route inaugurals, including ILG-DTW, ILG-ATL & IAH-SCL.
I flew in a Convair 580 (twice) with the goal of "heading towards that mountain" or "flying at the storms" to get a view of how the cockpit systems works. And I flew in one of two B-24 Liberator bombers which is still in service, some 70 years after the type was first introduced.
There was also the extended "layover" in Kwajalein where we were mostly detained while waiting for a working airplane. And a round trip to and from what is reported to be the world's shortest commercial runway.
I had two different RTW routings completed in less than a week. One of them was in economy class the whole way. I even crossed the Atlantic a few times in a middle seat in coach. And, despite some of the hyperbole you'll read online, it was neither torture nor traumatic. A full 75% of my segments were in economy class, though only 56% of the miles flown were; I got very good use out of my upgrade instruments in 2014 and even bought a few premium seats (not only the Delta Boxing Day 2013 mistake fares).
And more than 80% of the time I was in a window seat. Where I long to be.
I played trick-or-treat in an airport where I was the one giving out candy. And I made a lot of new friends along the way. That's the best part.
As for how much all this costs, I don't really have an answer to that question. Some of my trips are work-related and reimbursed while others are points-based or, in very rare occasions, I'm on a paid ticket where I never see an invoice nor receipt (writing for other outlets in nearly every such case). But I can share some of the numbers I do know. Thanks to TripIt and some quick accounting/rounding of costs I know that I redeemed about 300,000 points for my own travels this year and spent about $18,000 on airfare. About $5,000 of that was vendor-paid travel. I had five trips where the airfare was over $1000 (one over $2000) and all but one of those ended up in business class for the long-haul flights; like I said, I made very good use of my upgrade instruments. The one which didn't was the Biman DC-10 trip which was $1000 on its own for a coach seat, though with only 50 total passengers on board there was plenty of room to spread out. And that doesn't include the costs of ~120 nights spent sleeping somewhere other than home. I'm quite certain I don't do this the cheapest of anyone out there, but I am spectacularly happy with the results of my spend.
I would be remiss were I to not mention the tragedies the commercial aviation world suffered in 2014. There were a few high-profile catastrophic aircraft losses and a few more lower-profile incidents. It is, however, hard to argue with the numbers, all of which suggest that commercial aviation remains one of the safest means of transit on a passenger mile basis. Can it get better? Probably. But we're already playing in the slimmest of margins; passenger safety is still tremendously high.
What will 2015 bring? I don't know all the details yet, but I've got trips to Doha, Krakow, Istanbul, Abu Dhabi, Hamburg, Tokyo, Osaka and Hong Kong all booked already. And that's just into April. I'll take the occasional delay and even a missed connection here it is also means getting to enjoy these adventures. Come to think of it, I wouldn't have it any other way.