JetBlue is starting the year off with some good news for frequent flyers: More routes and more points.
Double Elite Points
The double points promotion to start the year includes double "base" points which is what JetBlue uses to determine qualification for TrueBlue Mosaic elite status. They also count towards regular award travel. The promotion runs until 8 March 2015 and registration is required. Also worth noting that it only applies to newly purchased tickets.
New Routes
Cleveland it getting a bit more JetBlue love on 30 April 2015. The company had previously announced multiple daily flights between the North Coast and Boston; that will be augmented with daily service to Fort Lauderdale. Service will also be added from Fort Lauderdale to Detroit which also already has Boston service.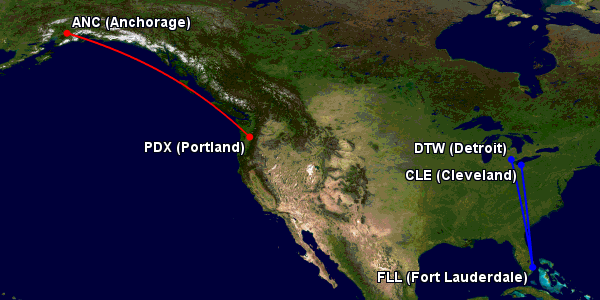 Finally, Anchorage will see a bit more seasonal lift from JetBlue with service from Portland, Oregon coming for the summer season between 18 June and 8 September. This is in addition to the Long Beach and Seattle seasonal service already offered in to Anchorage.