American Airlines customers finally know a bit about what the carriers new 787-8 Dreamliner looks like inside and also where it will be flying. The company took delivery of its first 787 at the end of January and will be conducting the necessary training and familiarization flights with it before introducing it into commercial service. That first commercial flight will be a domestic hop from DFW up to Chicago on 7 May 2015. Tickets for the inaugural flight will go on sale starting on 14 February 2015.
Additional domestic flights will run for several weeks before the first international route – DFW to Beijing – is launched on 2 June 2015, followed closely by DFW to Buenos Aires on 4 June 2015. Boeing has four additional 787s currently in final assembly, pre-flight or awaiting delivery for American so by the time May rolls around the carrier should have sufficient frames delivered to run these routes without trouble.
In addition to announcing the new routes the company has also unveiled details about the interior configuration. The business class will feature 28 of the custom-designed seats currently being retrofitted into the carrier's 777-200s. These seats offer a 1-2-1 arrangement and alternate forward and rear-facing seats in a herringbone-esque layout. There will be five rows (20 seats) of business class in the forward section of the plane (between the first and second set of doors) and two rows (8 seats) at the front of the next section.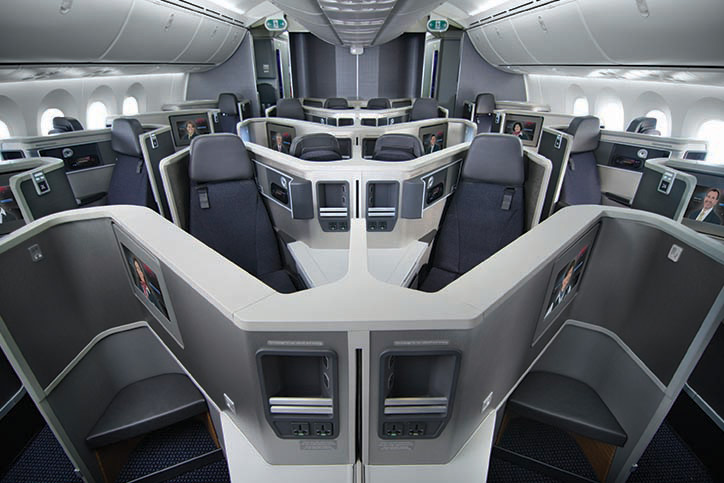 Behind business class the economy class cabin will hold 198 passengers split up between AA's Main Cabin Extra (48 seats) and Main Cabin (150 seats) sections. All economy class seats will be 3-3-3 and will offer a 9″ LCD screen plus 110V and USB power outlets. Main Cabin Extra seats will offer "up to six inches" of additional legroom.
The total seat count of 226 puts AA just above United Airlines' 219 seats on its 787-8s. And United has more business class (36 v 28) and more extra leg room (70 v 48) seats than American. American does have significantly more regular economy seats (150 v 113) than United does.
It is unlikely that the AA 787 will be particularly comfortable in the Main Cabin given the seat spacing and my prior experience on the similarly sized 777-300ER seats. But the Main Cabin Extra legroom and Business Class everything do look like pretty nice options if you can get them.
Related Posts