I always enjoy receiving an email from an airline about an upcoming trip. Usually it is a reminder to buy an ancillary product or something else I have no interest in. But this morning's email from Etihad was rather different. They were doing me a favor, it seems.
We refer to the recent booking you made online to travel on our services. The flights that were selected require travel on our code share partner American Airlines for a part of your journey and then a transfer on to a connecting Etihad Airways flight. As we operate a non-stop service on the same date, we have accommodated you on the direct Etihad Airways flight at no additional cost to yourself.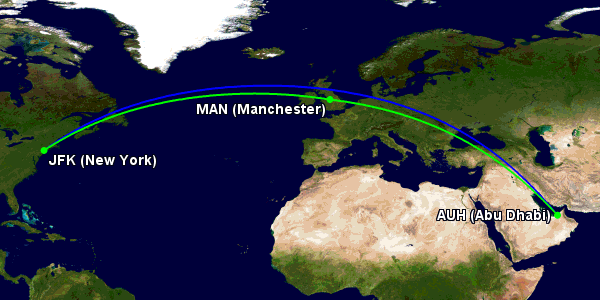 Apparently booking a codeshare flight on Etihad's partners was a mistake I made, not an excuse to spend 12 hours on a layover in Manchester by hopping a FlyBE flight over to Isle of Man for no good reason. Fortunately a (relatively) quick call to the Etihad call center got my original itinerary reinstated. At least one other person I know reported that the call center denied his request to be put back on the originally booked flights, so that's an interesting twist.
Either way, a bit of fun with the airline trying to "help" when none is needed or desired.